The kitchen is the space in the house where the magic happens, flavors and smells blend and create lasting memories. Investing in kitchen redesign can be essential to make you and your family feel better after a long work day or to create happy memories.
If you live in San Marino, California, and you are looking to improve your home's aesthetic, hiring a reliable home remodeling contractor is the best option for a successful job done right. This will get you a beautiful and stress-free outcome.
But before starting the path to upgrade your kitchen, you need to understand what to expect from the specific kitchen remodeling contractor you are considering working with, especially since it can be expensive. Let's dive into some crucial questions you need to ask when selecting a kitchen remodeling team, as well as the benefits of working with a kitchen remodeling specialist in your area.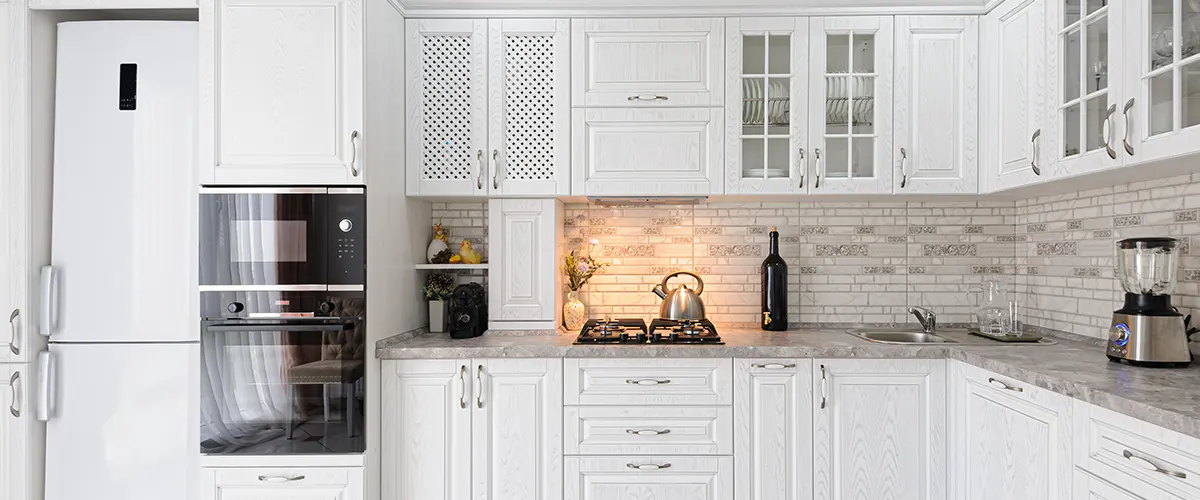 Kitchen Remodeling Contractors Like No Others​
We understand that your home is a reflection of you and take pride in ensuring that our responsibility and passion are reflected in every house renovations project we do. We know this is what it takes to create a successful outcome that leaves you feeling good about your investment.
Benefits Of Working With A Kitchen Remodeling Contractor
According to Statista, 45% of people planning to do a kitchen remodeling in 2022 wanted to do it all along and finally had the means to do it. Therefore, you might be worried about all the costs of hiring a professional – but before you decide, here are three significant benefits of hiring an expert for your next kitchen remodeling project.
Everything Follows Proper Coding and Licensing
If you decide to do a significant remodel of your home, you need to ensure that you aren't violating the rules and regulations in your area. There are specific guidelines for construction projects that must be followed, and you'll do well to follow them.
When you hire a licensed professional to handle your project, you can rest assured that they'll follow these regulations to the letter.
Professional Perspective And Commitment
A kitchen remodeling contractor will make sure that the functionality of all the fixtures, appliances, and attachments meet your needs. They can give you professional advice and a unique perspective that is hard to get from reading magazines or on the internet if you choose to do it on your own.
Your contractor should also make sure that all expenses stay within your budget. They have various tools, help you choose the material for your flooring, and provide you with a cohesive design that will enhance your space.
Knows Various Suppliers In Your Area
A kitchen remodeling expert will also have all the connections you need, from furniture to appliance suppliers, and they can add beautiful decorative elements. They're also top-notch when it comes to finishing touches. If your kitchen remodeling project is in San Marino, California, don't just consider vendors like The Home Depot – the right contractor will work with good people, from prefabricated to custom cabinetry.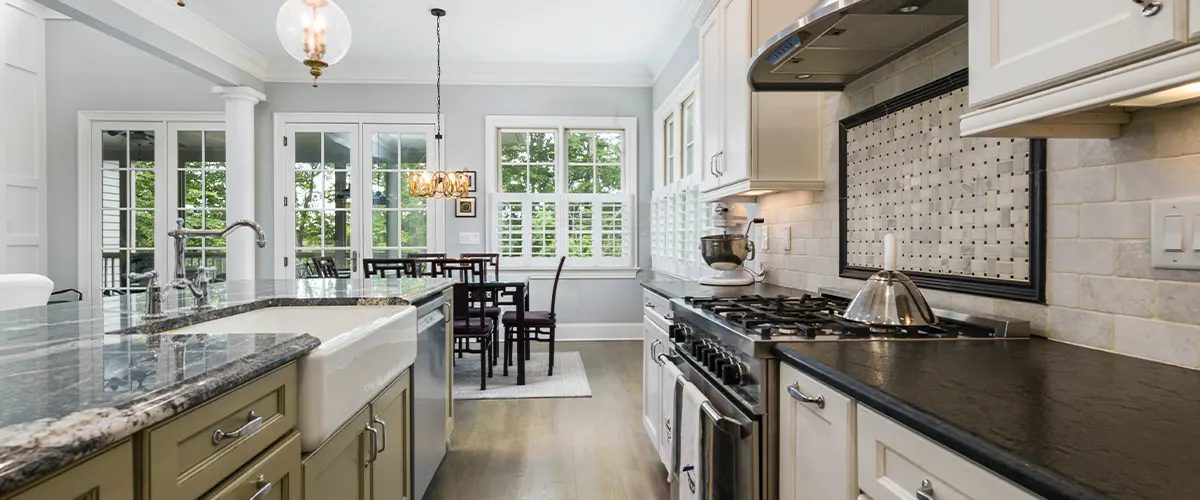 Check out our kitchen remodeling offer right now! Request your free quote and get the best remodelers in San Marino on your project!
This Is What Your Neighbors Say About Working With Us!​
Happy homes in San Marino were all transformed with us. We've made it a pleasure to work with us, and it shows!
Chavez Brothers Construction are very professional and I would recommend them for any project you may have.
Jorge is great at communicating and gives daily updates with pictures as well as next-day objectives via email and text. The crew is very respectful and professional. They were willing to assist with minor repairs outside the scope of the project with no additional charges.
Work is done on time and within budget. They addressed any issues in a timely manner and made sure they were resolved to the homeowner's approval. Great company. Can't wait for the next project to have them work on with us!
Type Of Upgrades And Materials
Overwhelmed by the number of choices for your upcoming kitchen reno? No need to worry, we have experienced professionals who will help you narrow down your options and figure out what style is best suited for you and your home.
For now, let's see check out the most popular upgrades and materials.
The cabinets are crucial in any kitchen update because they set the tone for the whole space. They also provide extra storage, which is key to having a functional and well-organized kitchen.
There are three types of kitchen cabinets:
If you're looking to save some money and energy, newer appliances offer the best value in the long term. If cooking is your passion, a gas stovetop would be ideal for you. However, if there are no existing gas lines installed – electric ones will do just as good of a job.
If your wallet allows, having a dishwasher in the kitchen is becoming more and more common since it can assist with tasks while using less water. Additionally, mixers and microwaves are great additions to any home if you have the funds – they're not necessarily essential items though, when money is tight.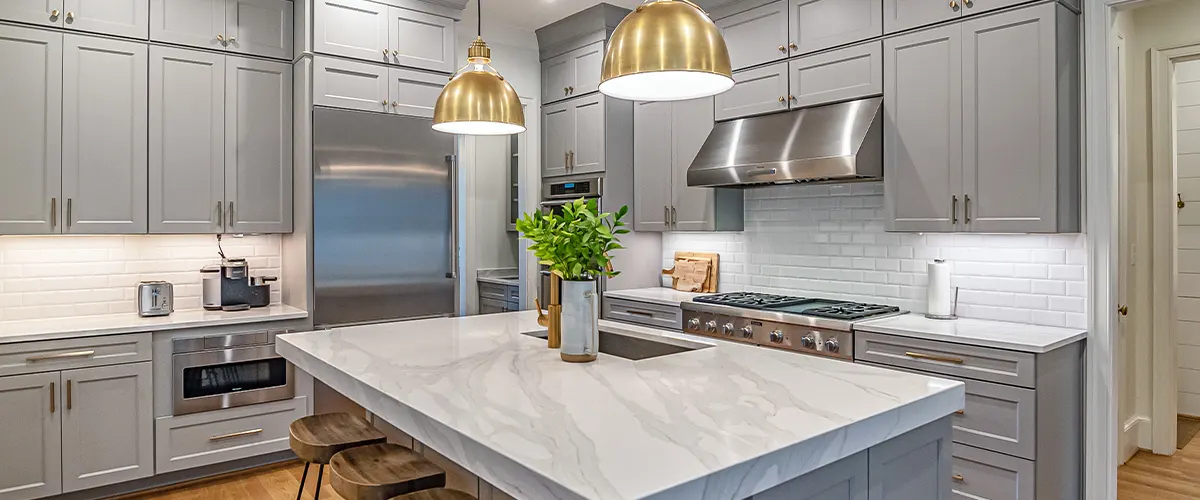 Countertops can be a fashionable addition in any modern kitchen, while simultaneously creating an attractive touch to tie your dream cooking space together. The amount of utility and beauty of your counter area will depend on the material you choose.
We highly recommend quartz countertops – they are manufactured counters that exemplify durability, strength, and effortless upkeep for a consistent aesthetic throughout the room.
You also can't go wrong with granite. If you're looking to make your countertops a focal point in your kitchen, look no further than granite; it has some of the most beautiful veins and patterns.
If you're looking to make your kitchen feel more luxurious, opt for a marble countertop. Not only is it gorgeous, but it also creates a seamless transition from the counterspace to tile flooring.
Other countertop options include butcher blocks, stainless steel, concrete—or if you're looking to save some money—laminate.
simple. They're both highly functional in a kitchen, and they look great.
Although they cost a little more, undermount sinks will give your counter space an elegant and well-defined look. They're easier to keep clean than traditional sink designs but can be tougher to install. Most undermount sinks are made of porcelain, but other materials are also available.
Drop-in sinks are less expensive and easier to install than undermount sinks, two features that often make them a more appealing option for homeowners. Most drop-in sinks on the market today are made of stainless steel, but some newer models may be crafted from other materials.
The faucet, however, is what truly makes a kitchen sink useful. A faucet with adjustable sprays or several levels of pressure is an upgrade that will make a big difference in terms of accessibility and efficiency.
We Make San Marino Kitchen Remodeling Simple
We created a method to reduce the tension and concerns that a remodeling project would usually generate. We're always keeping you in the driving seat, with complete control of your job and knowledge of everything going on at every step.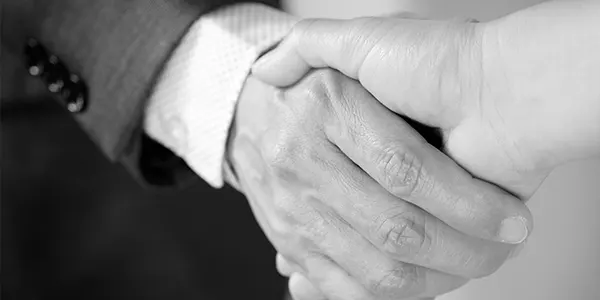 Request your free quote and let's open a conversation!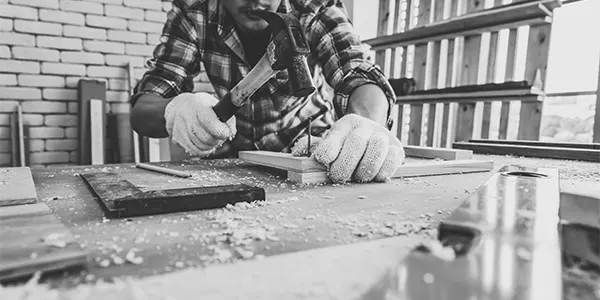 We'll discuss all the details and start building your dream kitchen.
Show off your new kitchen and enjoy all the benefits a remodel can give you!
Frequently Asked Questions
We have three locations in our kitchen remodeling process. We collaborate with you by offering a free quote and opening up a conversation about your project. Then we move to the phase where we discuss all the details and start building your beautiful kitchen. Of course, there are more steps to take into account – from demolition to plumbing, and electrical, to paint, flooring, cabinetry, and appliances. We'll offer you a clear picture of what each process step entails.
The final phase is showing off your kitchen to your family and friends and enjoying cooking and serving delicious meals!
While remodeling your kitchen will undoubtedly increase your home's value, there are also contrasting opinions about how much weight it'll bring. However, since the kitchen is one of the main points of your home, it's usually where you get the most added value. A kitchen renovation will increase the value of your home.
Of course, the time needed for kitchen remodeling in San Marino generally depends on the specific needs of your project. In general, remodeling your entire kitchen takes around a month of work. Following our initial consultation, you will receive a detailed timeline outlining the various stages of the project, as well as a cost estimate.
Take The Last Step In A Long-Overdue Upgrade
Request a free quote and let's discuss your upcoming entire kitchen remodeling in San Marino! Or talk directly with the owners at (626) 598-0833 and see if we're the right fit.