Choosing the right kitchen countertop material can be a daunting task for any homeowner. With California being home to an eclectic mix of contemporary design and traditional charm, the choice becomes even more complex.
Let's navigate this perplexing landscape by presenting the top 10 most popular and trendy kitchen countertop materials in The Golden State.
Keep reading to transform your kitchen into a space that's both functional and stylish!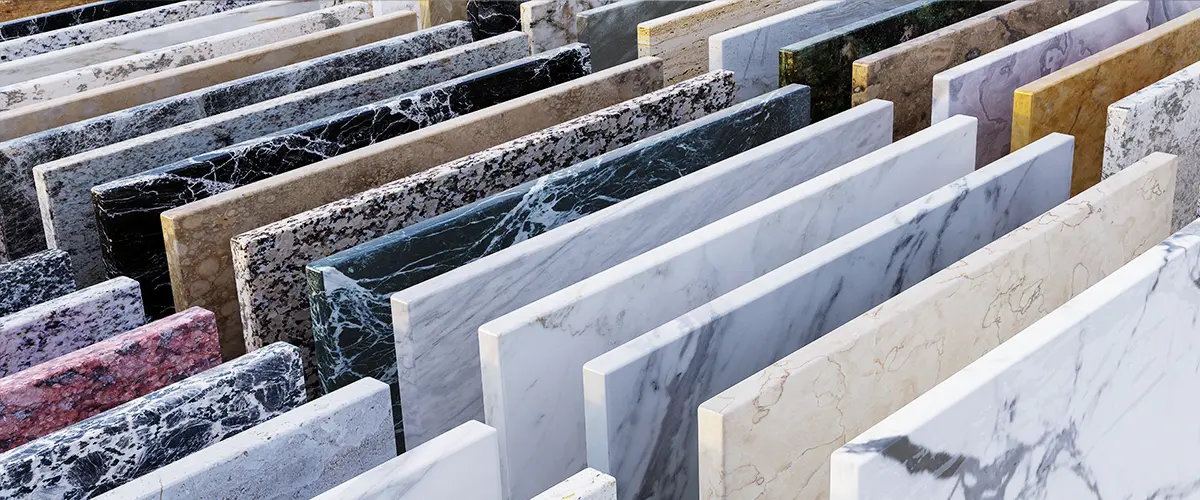 Most Popular Kitchen Countertop Materials in California
Take into account the popularity of a kitchen countertop for one simple reason: they'll be easier to find. Did you know that serpentine countertops are very common in CA because they're all over the place?
1. Kitchen Coutertop Material - Quartz ​
Quartz proves to be a top choice for many homeowners in California. Valued for its durability and design flexibility, quartz offers the look of stone without demanding high maintenance.
Unlike other natural stones, it won't chip or crack easily and doesn't require sealing. Quartz comes in a wide variety of colors and patterns, giving you plenty of options when designing your kitchen.
Besides beauty, quartz countertops are non-porous making them resistant to stains from wine, coffee, oil or other common household substances. This quality also prevents bacteria growth which makes quartz a hygienic choice for your cooking space.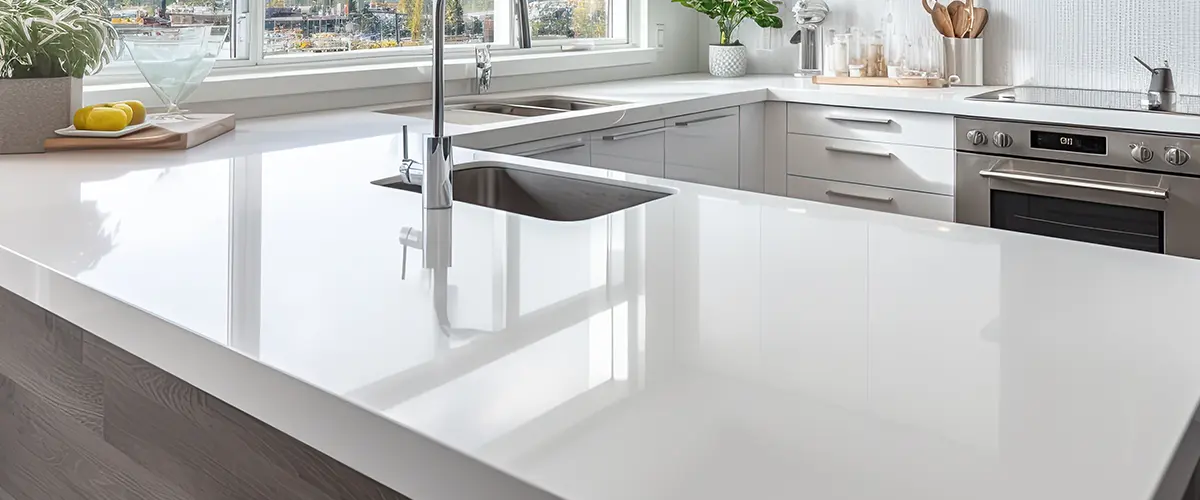 2. Kitchen Coutertop Material - Granite ​
Granite stands as a favored choice for kitchen countertops due to its robustness and various color options. This natural stone brings elegance, expanding your home's aesthetic appeal.
Granite is incredibly resilient, able to withstand heat from pots or pans without damage. It resists scratches exceptionally well, ensuring that your countertop maintains its pristine condition over time.
Regular sealing can enhance granite's resistance to stains and spills making it perfect for busy households.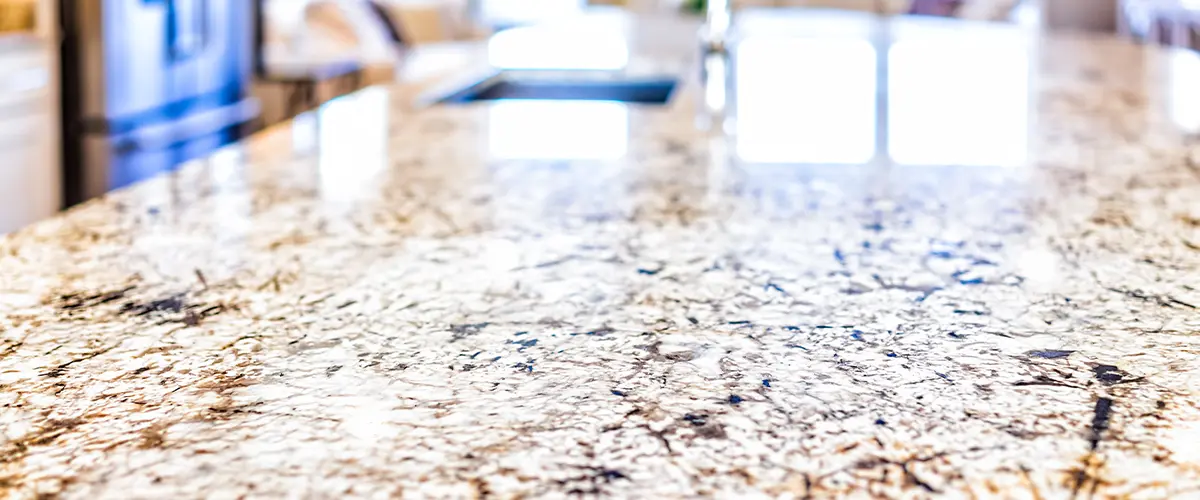 3. Kitchen Coutertop Material - Laminate ​
Laminate countertops offer a cost-effective but stylish option for any kitchen. They are made by bonding layers of plastic together and mounting them onto particle board or MDF.
With a vast array of designs and colors available, laminate provides homeowners with an opportunity to customize their kitchen's look to their liking. Despite its lower cost, modern laminate mimics high-end materials like marble, quartz or granite quite convincingly.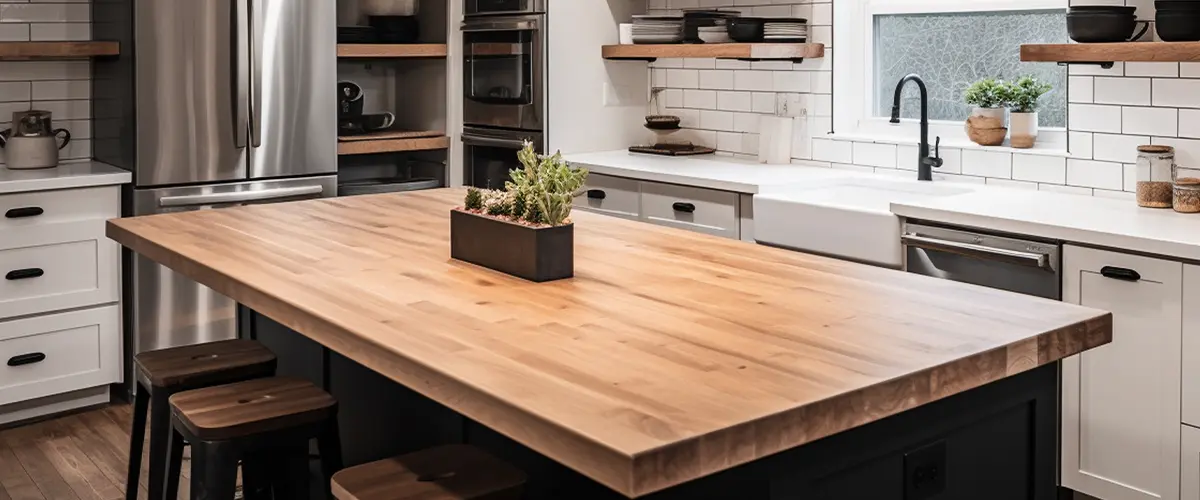 4. Kitchen Coutertop Material - Solid Surface ​
Solid surface countertops offer a sleek and seamless design to your kitchen. Made from synthetic materials, they provide an array of benefits homeowners appreciate. The non-porous nature repels bacteria, leading to a cleaner workspace for food preparation.
The beauty of solid surfaces extends beyond their clean lines and smooth feel. They come in countless colors and patterns giving you endless customization options for your kitchen decor.
5. Kitchen Coutertop Material - Stainless Steel
Stainless steel countertops are a standout choice for homeowners desiring a sleek and modern kitchen. Known for its durability and resistance to heat, this material shines in high-traffic kitchens where practicality meets style.
As an added perk, stainless steel offers easy maintenance due to its non-porous nature which makes it resistant to stains and spills. For those who love cooking on their kitchen island, they find it particularly appealing as it mimics a professional chef's workspace while providing hygienic conditions for food preparation thanks to its antibacterial properties.
Despite these benefits, be prepared for potential scratches and noise as stainless steel can be vulnerable to surface damages and tends to echo sounds.
Trending Kitchen Countertop Materials in California
Trends in California are shifting towards eco-friendly and aesthetically pleasing kitchen countertop materials like recycled glass and butcher block, while soapstone presents a durable and low maintenance option.
With its colorful speckled surface, terrazzo adds an artistic touch to your kitchen, whereas wood offers warmth and timeless beauty that never goes out of style.
6. Kitchen Serpentine Countertops
Serpentine is a stone similar to marble but harder and less porous. It is more acid- and abrasion-resistant, making it an excellent choice for kitchen countertops and outdoor applications.
There are a few downsides to serpentine tops. They require daily cleaning, they come in just one color (green), and it needs resealing.
Serpentine countertops are not cheap, often costing as much as traditional marble. Like real marble counters, serpentine counters can range from $75 to $250 or more per square foot.
7. Kitchen Butcher Block Countertops
Often made from hardwoods like maple, oak, or cherry, butcher block counters boast an organic beauty that adds warmth to interiors.
They're not only stylish but also practical because you can directly chop and prepare food on them without needing extra cutting boards.
On the other hand, butcher blocks need regular maintenance to retain their looks and functionality. They require oiling every few months to prevent drying out and cracking. These countertops are susceptible to scratches and stains, so immediate cleaning is crucial after food preparation.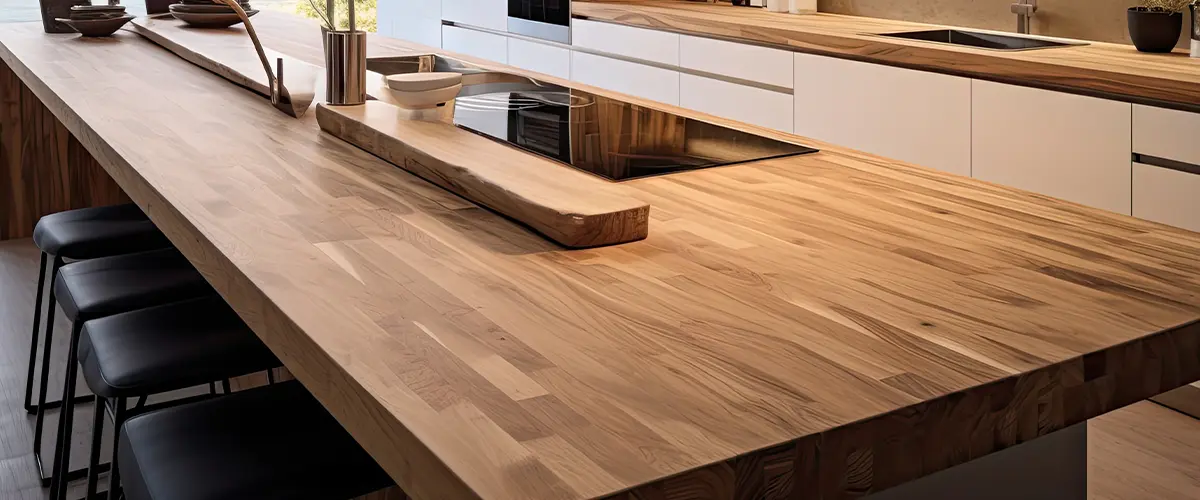 8. Kitchen Soapstone Countertops
Soapstone often graces modern kitchen interiors with its unique aesthetics and robust structure. This natural stone is famous for its heat resistance and longevity, making it ideal for crafting countertops that withstand high temperatures without cracking or staining.
Despite being softer than granite or quartz, soapstone handles scratches efficiently as minor damages are effortlessly buffed out, keeping your countertop looking pristine year after year.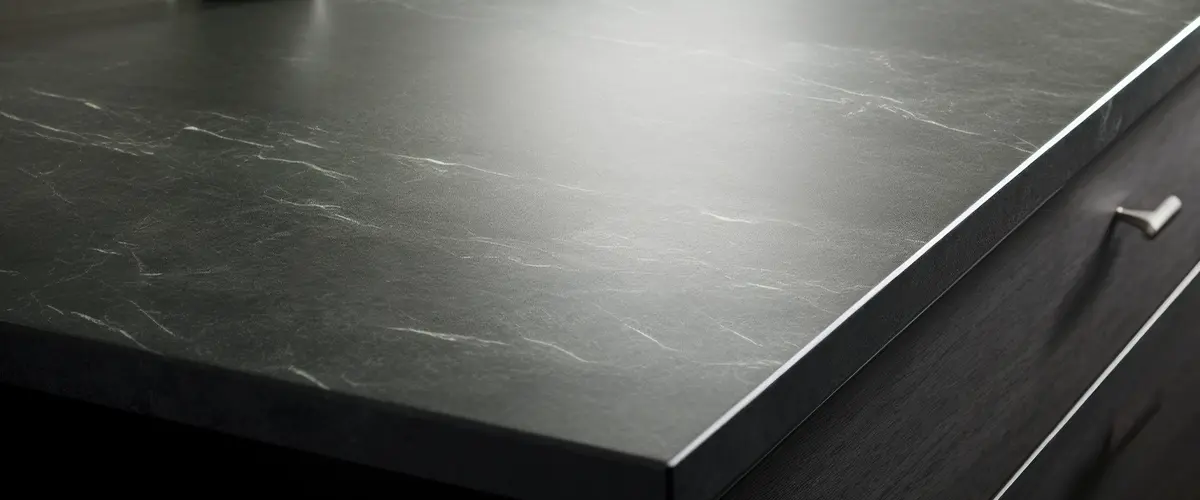 9. Kitchen Terrazzo Countertops
Terrazzo stands out as a unique choice for your kitchen countertops. Its patterned surface, comprising chips of marble, quartz, granite or glass embedded in cement, makes each piece one-of-a-kind.
Terrazzo's durability and resistance to stains makes it an excellent contender among countertop materials. Furthermore, the option for customization with various colors and patterns allows homeowners to create a personalized aesthetic in their kitchens.
Despite its rather high cost compared to other options like laminate or solid surface countertops, Terrazzo offers unmatched beauty and longevity, with very simple maintenance; simply wipe it down daily with mild soap and water.
Choosing the right kitchen countertop material adds value to your California home. Each option brings its own unique blend of beauty and practicality.
If you can't decide on a countertop, get in touch with us and we'll help you out with an option that fulfills your needs, matches your home's style, and fits within your budget. Generally, a quality laminate or a quartz top will be your best options, but each home's unique, so you might be looking for something else.
If you live in Pasadena, Glendale, and surroundings, give us a call and we'll be more than happy to help you out with your new countertop.