According to Cost vs. Value Report 2022, the average kitchen remodeling cost in Arcadia is around $31k and is in the top 3 home improvements that bring the highest ROI. Specifically, minor kitchen remodels have a 77.9% return on investment, while a major kitchen renovation has an ROI of 59.3%.
To gain a thorough knowledge of the cost for your future project, it is crucial to comprehend how much kitchen remodeling in Arcadia may be. 
At CBRemodels, we not only deliver quality renovations but also strive to reduce any apprehensions you might have about the price of your forthcoming venture. 
We are dedicatedly transparent with our clients so they know precisely which upgrades and features can be acquired and what each costs!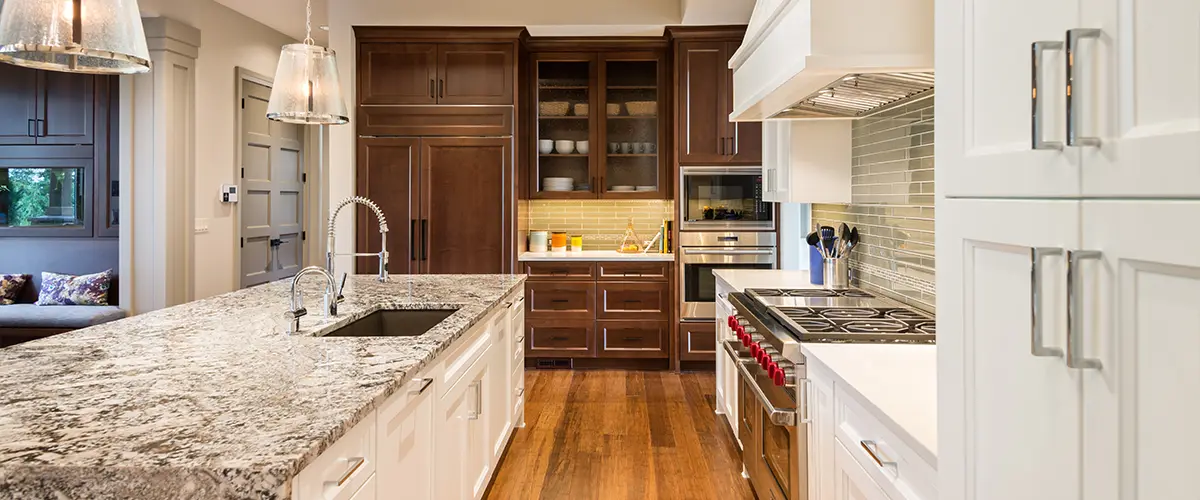 The Typical Kitchen Remodel Cost In Arcadia
A kitchen renovation in Arcadia can be pricey, especially depending on how big your space is and what materials you choose. The cost of remodeling will also depend upon any changes to the area. 
To give you a better idea of the average expense for different sizes of kitchens in Arcadia, let's take a look at this information now!
| Size | Average Price |
| --- | --- |
| Small <70 sq ft | $20,500 - $45,000 |
| Medium 100-150 sq ft | $45,500 - $77,000 |
| Large 200+ sq ft | $80,000 - $110,000+ |
CBRemodels will give you a precise pricing quote after our in-home consultation, covering all the factors that go into your project. We'll also provide solutions to ensure your overhaul doesn't break the bank. Contact us for your free quote right now!
Labor In A Kitchen Renovation Cost In Arcadia
Kitchens range from design and installation to plumbing, electrical work, carpentry, and building. Many professionals are involved in these jobs, and all of them charge differently.
When it comes to the structural safety of new spaces, nothing is more important than the expertise of a qualified architect. If walls need to be taken down or built up, you will require their services, drawings, and plans for building permit applications. Most architects offer an hourly rate between $65 and $400 plus a flat fee ranging from 10% – 20% of your entire project cost!
An expert kitchen designer is a key to a functional, aesthetically-pleasing kitchen. They will determine the perfect layout for your new space and make it look incredible. Designers' rates can vary from $300-$1,500, depending on their skill level; they usually charge 10-20% of the total renovation cost during a one-time consultation.
There are several kitchen water issues that most carpenters aren't trained to handle. Sure, a handyman can temporarily fix the issue, but it's best left in the hands of an experienced plumber who will be able to provide a lasting resolution. Plumbers typically charge up to $150 per hour for both labor and materials costs combined.
If you're moving your appliances, you'll also need new electrical wiring. Making sure the electrical installation is safe, and sound is mandatory for your and your family's safety. A professional electrician will charge between $80 and $150 per hour, not including materials.
Get All In One With CBRemodels Services
When deciding on a contractor for your kitchen makeover, why not enlist the help of one who can skillfully guide you through every step of this complex home improvement process? We offer expertise in all areas, from electricians and plumbers to carpenters and designers.
We will bring together all these experts so that you won't have to search elsewhere. With us managing everything, it's sure that we'll deliver the best possible outcome for your project!
We are your one-stop shop for kitchen remodels in Arcadia, and we're dedicated to seeing your vision through. We take pride in delivering the best end-product to homeowners around California.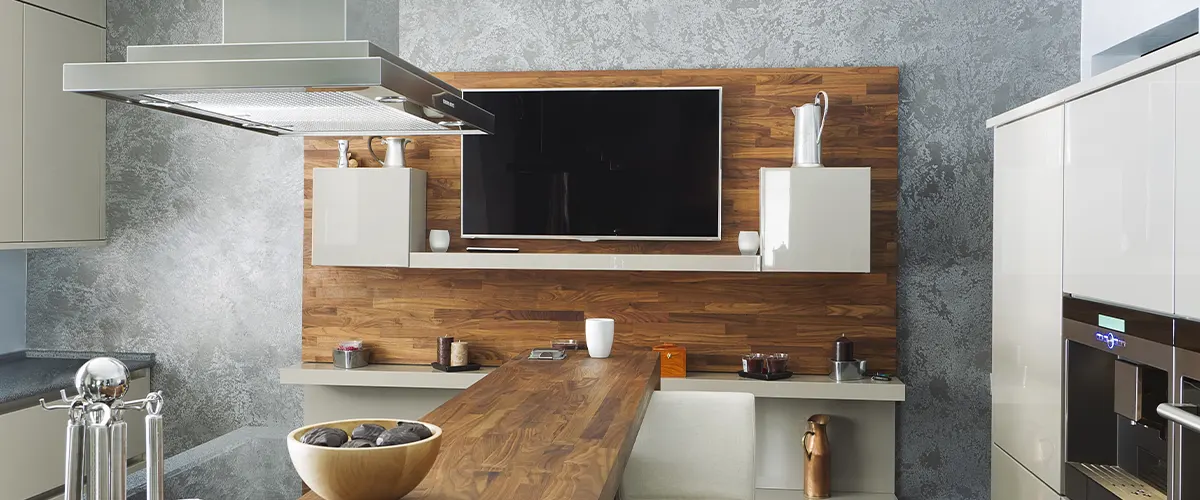 The Upgrades And Features In A Kitchen Remodeling Project
At our on-site consultation, we'll discuss all of the upgrades and features available for your kitchen remodel. Until then, here are some of the most popular options and their impact on your kitchen remodeling cost in Arcadia.
A backsplash on your kitchen walls prevents food and liquid splatter from damaging them while cooking. Not to mention, a tile backsplash is far easier to clean than paint.
Let's look at some backsplash materials: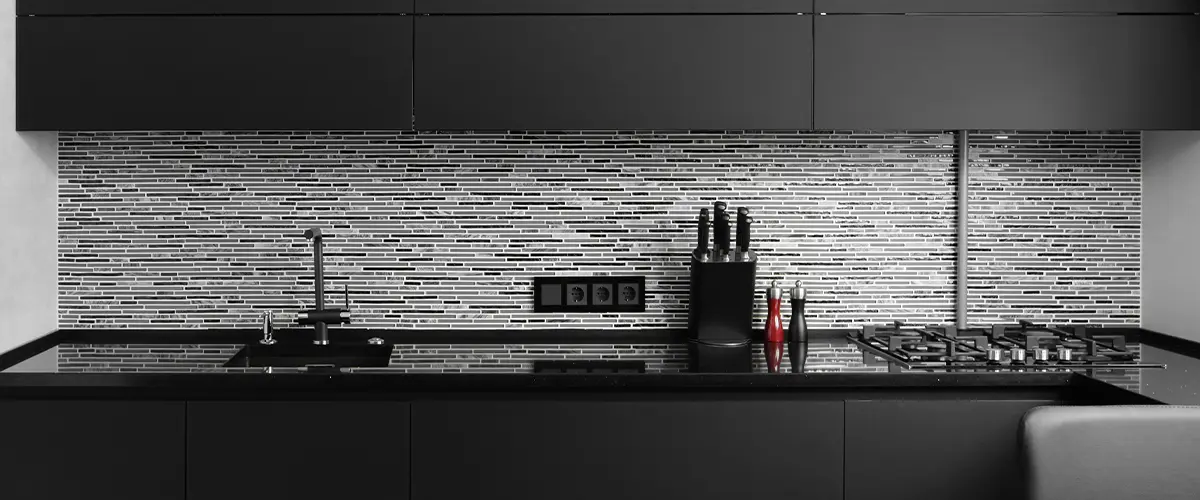 Not every kitchen makeover requires the installation of new appliances. If you have something that works well and looks nice, you may skip this step. If money is tight, giving up new appliances might be a smart option.
As technology advances, kitchen appliances are equipped with many amazing features, such as touch screens, scheduling capabilities, and even self-cooking! From budget-friendly models at $500 to high-end options upwards of $3,000+, there is something for everyone. Installing gas lines can add an additional cost of around $200 per hour plus materials if you opt for a gas range instead of electric.
The cost of kitchen appliances is also related to their efficiency. Even an optimal double oven might use less energy than a high-end range would consume.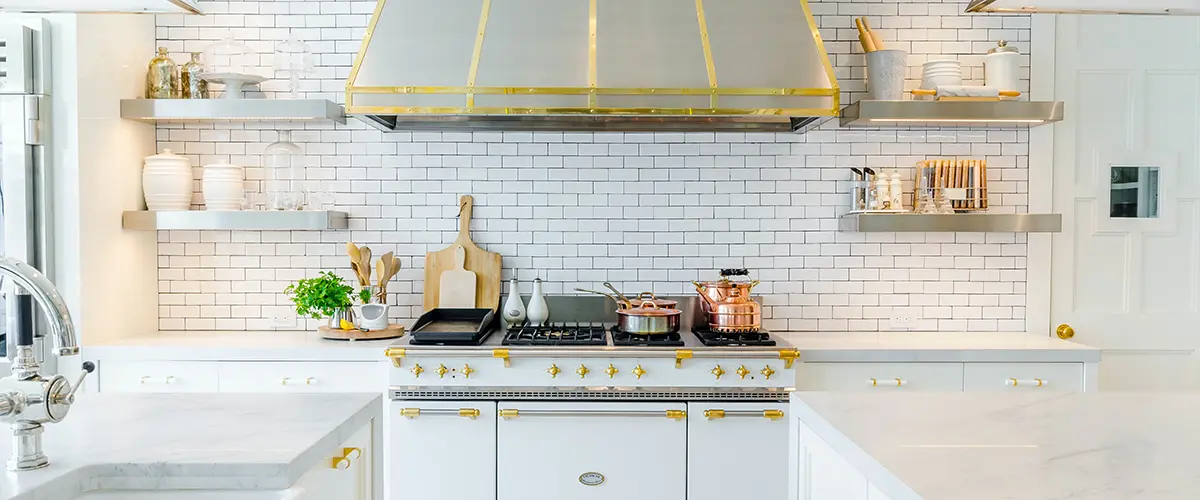 Open floor plans boast an opportunity to make the kitchen countertops a noteworthy focal point. They are a must in almost all kitchen remodels, and if you don't include this upgrade, it can be difficult to create your ideal cooking space.
Quartz countertops are the best option for your home. They range from $75-$100 per square foot and, although not natural stone, are more durable than granite or marble. Granite countertops range from $40-$60 sqft, whereas marble is less functional but more upscale at around $ 100 sqft.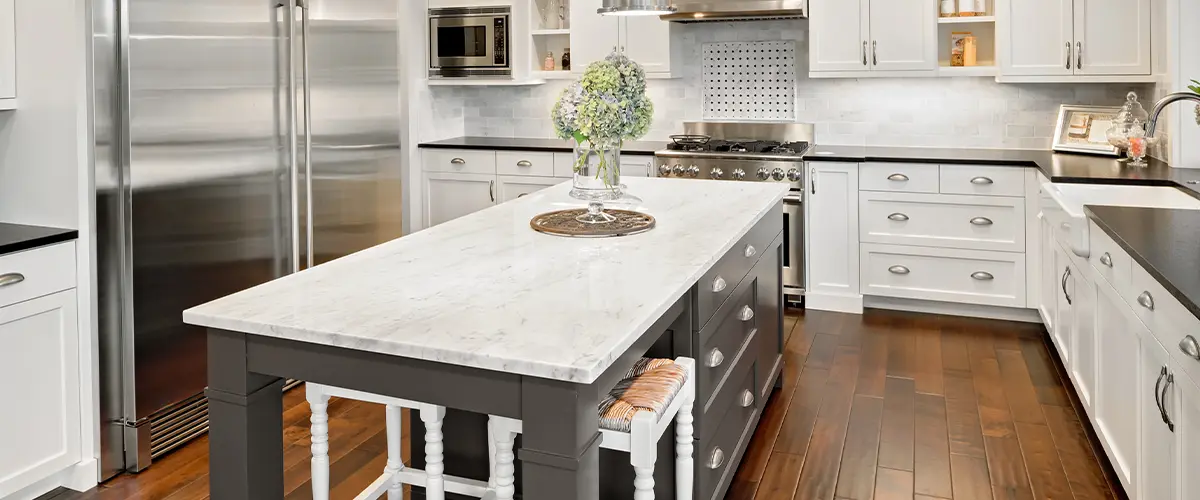 Although often chosen as an upgrade, you don't always need to replace your flooring. If you already have a hardwood floor in good condition, refinishing it will make it look new again – without spending money on all-new materials.
Rather than investing $8k+ in brand-new hardwood floors for your kitchen, consider opting for high-end vinyl planks. Not only are they waterproof and require less maintenance, but you won't have to deal with the hassle of sealing or staining them afterward. Plus, unlike hardwood flooring, vulnerable to rot and mildew damage over time, these vinyl planks will look great no matter what!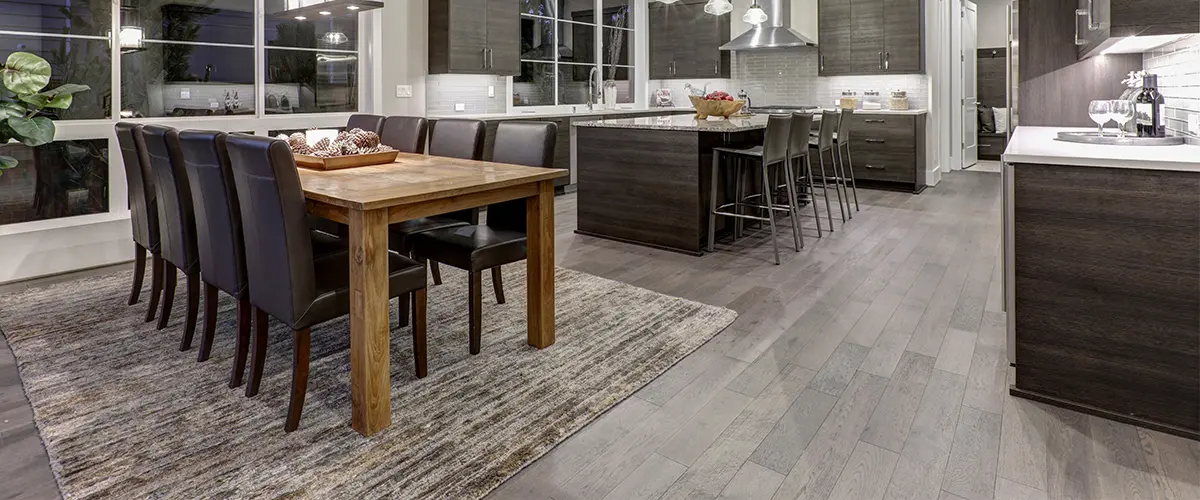 Your kitchen remodeling costs wouldn't be complete without new cabinets.
Investing in custom cabinets can be a hefty expense, ranging from $500 to $1,200 per linear foot. Semi-custom cabinets are more affordable at between $100 and $650 per linear foot – while stock options range from only as low as six dollars up to two hundred for every single feet. 
Consider upgrading your kitchen with under-cabinet lighting for an added air of warmth throughout dinner time. It's the perfect way to make mealtime enjoyable!
Budgeting For Your Kitchen Renovation Cost In Arcadia
Home renovation TV shows may shine in making the process look simple, but they are dismal when it comes to being realistic. Too often, you'll see a kitchen remodel that's way beyond its intended budget range.
The most significant flaw with these programs is that they don't go into detail about what a complete kitchen renovation entails cost-wise, thus causing homeowners to have false hopes for their own projects.
Here are some tips on how to budget for your renovation!
Whether you're a professional chef or just like to cook for your family, the kitchen should reflect who you are. For those of us not too keen on cooking, it's an opportunity to save some money and get lesser-priced appliances! 
But if entertaining friends and family are more important—think board game nights or weekend dinners in the space—it pays off to invest time into making that particular area cozy. This may involve spending extra time with your designer regarding design and style elements.
Although it may not seem like it initially, one of the most important aspects of renovating your kitchen is factoring in unanticipated issues. Things such as mold, mildew, and plumbing problems are all issues that commonly pop up during renovations.
Setting aside an additional 20% of your total project cost will give you a buffer so that if any unforeseen problems do arise, you will be prepared financially. It's always better to be safe than sorry! Plus, if everything goes according to plan, this extra money simply stays in your pocket.
Know What You're Paying For
If you're considering a kitchen remodel in Arcadia, it's important to remember that this usually comes with a higher price tag than the bedroom or bathroom renovations. To have the best experience and stay stress-free throughout the process, make sure you take time beforehand to understand precisely what is included within your estimated cost.
Always ask your remodeler about what you'll get for the price you'll pay. The National Kitchen & Bath Association ran a few studies and developed a well-detailed report showing the expenses of a kitchen remodel, so be sure to check it out.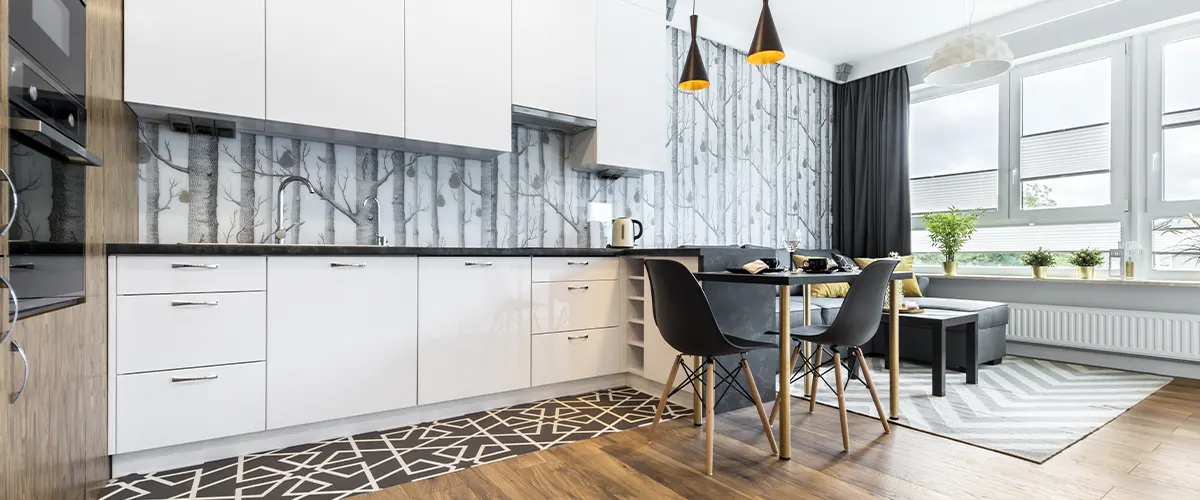 Get Pricing Transparency For Your Kitchen Remodeling Cost In Arcadia With CBRemodels!
Remodeling your kitchen can be costly, with an average price tag of $30,000. Nevertheless, the overall cost will depend on the design you select.
With CBRemodels' local professionals at hand to help you create your dream kitchen within budget and in a timely manner – no matter what project it is – rest assured that you are getting the best quality for money.
We tend to over-deliver, so expect:
Stop Delaying And Invest In Kitchen Remodeling Services Today