Enhanced kitchen cabinet features can powerfully improve the usability of your cabinetry.
From sophisticated soft-close hinges to practical corner solutions, superior hardware, and functional gadgets – upgrading your kitchen cabinets will surely make you more efficient in your kitchen.
In this article, you'll uncover 7 remarkable kitchen cabinet features that will transform your upcoming kitchen remodel and how they can maximize the potential of your cooking space.
Let's begin!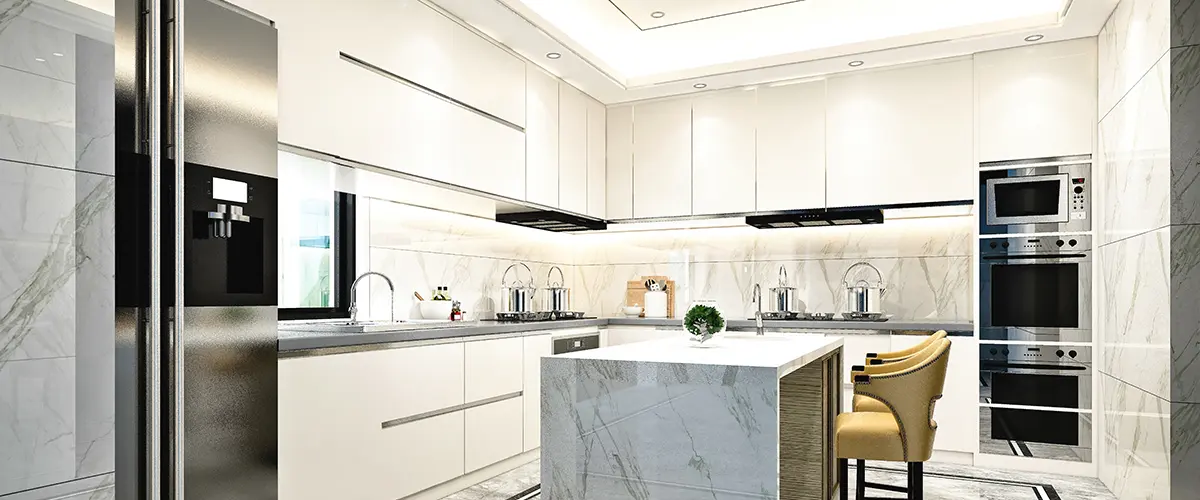 To start off, we suggest taking stock of all the kitchen utensils and hardware you already have tucked away in your cabinets. Make sure to include items that are hard to store as well as those typically left out on countertops.
In addition to hardware and utensils, don't forget to consider all the food items you'll need to store – especially if your kitchen doesn't have a pantry!
When you're deciding what features would best suit your specific needs, make sure to list anything that you'd like stored in the cabinets. This way, you can ensure all of your requirements are met when selecting kitchen cabinet features.
1. Pull-out Pantry Drawers
The deeper depth of pantry drawers makes them ideal for easily organizing and storing your biggest kitchenware. You'll be astonished at how quickly you can access everything when all the items are conveniently tucked away in their own specially designated space.
In the past, lower cabinets were used to store silverware and consisted of a door and drawer. Nowadays, however, our customers tend to prefer using deep drawers for their cookware over having to squat down in an effort to find what they need at the back of a cabinet.
Tray dividers and vertical dividers are also available for an even more comprehensive way to arrange everything and organize any storage space.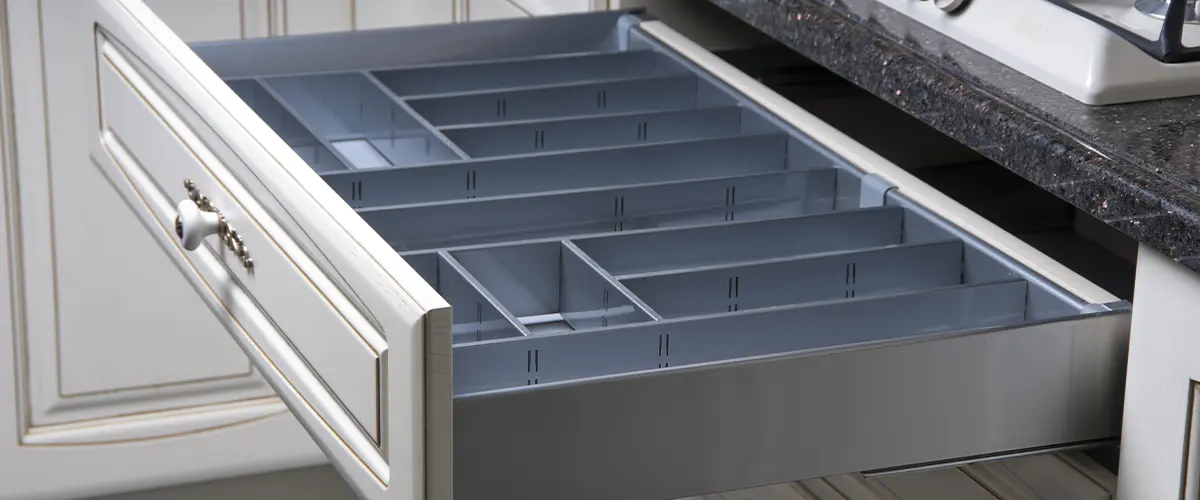 2. Trash and Recycling Bins Pull-outs
Keeping your kitchen trash and recycling bins on the floor is unsightly and can taint the atmosphere of your beautiful space.
Installing pull-out drawers in your kitchen not only ensures that the trash can is hidden yet still within reach but also optimizes the use of space.
Positioned near the sink or even integrated into a kitchen island, these nifty fixtures will make your culinary area both efficient and aesthetically pleasing.
Moving around your kitchen mixer can be quite strenuous, not to mention an inefficient use of time.
That's why a mixer lift is a perfect solution for your crowded counter space and organized kitchen – it grants you quick and easy access to your hefty appliance whenever you need it!
With minimal effort, sliding out the mixer and pushing it back into the cabinet space will make your culinary journey delightful.
You can also upgrade your kitchen cabinets storage by installing a mixer lift – perfect for a base cabinet!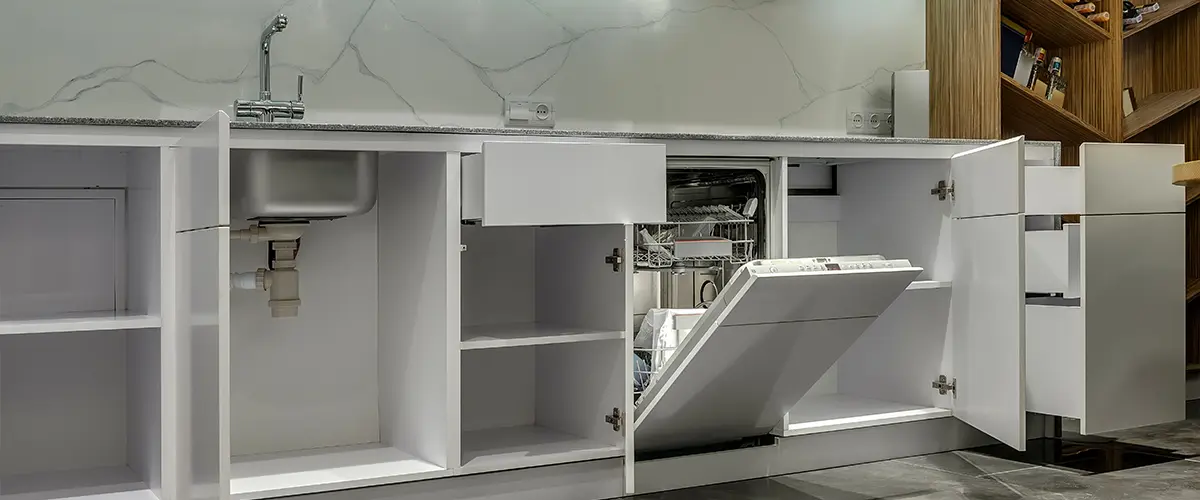 4. Pet-friendly Cabinet Features
Your furry family member deserves the best of care!
Create a cozy haven for them by adding storage solutions tailored to pet necessities like food, dishes, bowls, and even beds. With these built-in options, your four-legged friend can thrive in their environment.
Drawers offer flexible storage, and you can hide your pet's food in a toe kick drawer.
Not only will it keep all your pet's food and supplies neatly organized, but this storage system also helps keeps floors clean from scattered crumbs.
Outfitting your kitchen with cabinets with an allocated space for each appliance is today's ultimate cabinet feature.
Give your kitchen a modern and tidy look by concealing the fridge, microwave, and dishwasher inside of cabinets.
You can also install an oven cabinet or multiple cupboards for any small appliances that you want to keep hidden from view. By doing this, you'll achieve maximum organization in minimal space!
Not only do they bring a sense of warmth to your home but also enhance its efficiency significantly. This could easily become one of the best features in your kitchen!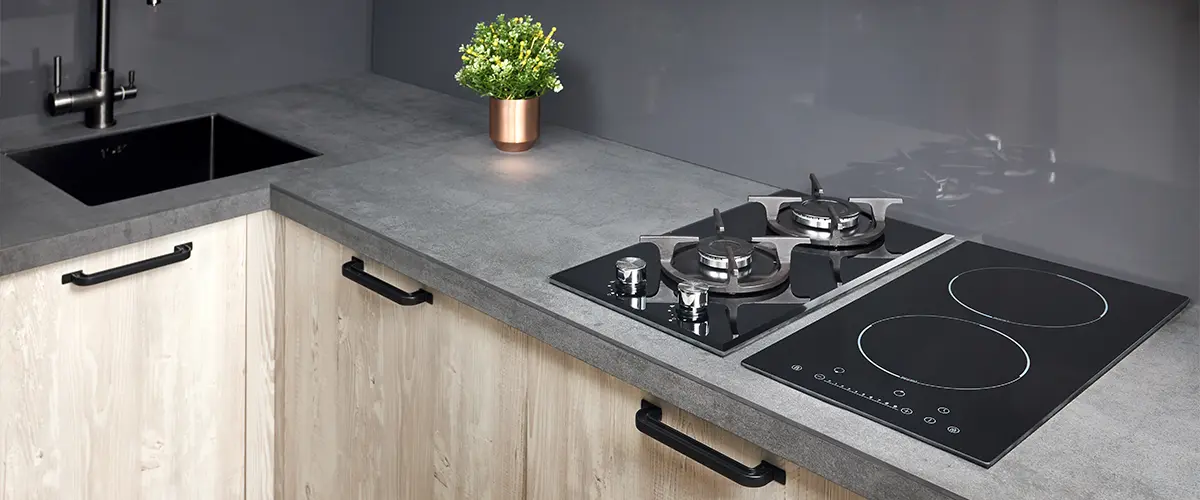 Recently, our customers have been inquiring about under-cabinet lighting for their homes.
This feature creates an inviting atmosphere perfect for a romantic evening in with your partner, hosting a game night with friends and family, or simply gathering together to strengthen the bonds of those you love most.
Illuminate your kitchen at night with low-voltage cabinet lights, the perfect solution for nighttime activities such as cooking and late-night snacking. Not only are they highly functional and energy efficient, but they also help you highlight your space's best features.
Having a cabinet door in the corner of your cupboard can be difficult to operate and access due to its awkward shape. This makes it hard to open the door without causing any damage while also making it challenging for you to easily reach whatever is stored at the back of your cupboard.
Corner solutions are the ideal remedy for that wasted space.
For example, a lazy Susan corner cabinet will instantly transform an unused area into storage capacity you can use! Blind corner cabinets or corner drawers have flexible drawers to make it easier to utilize even tight spots and get the most out of your cupboards.
With these options, no amount of room goes to waste – making them perfect for any kitchen challenge!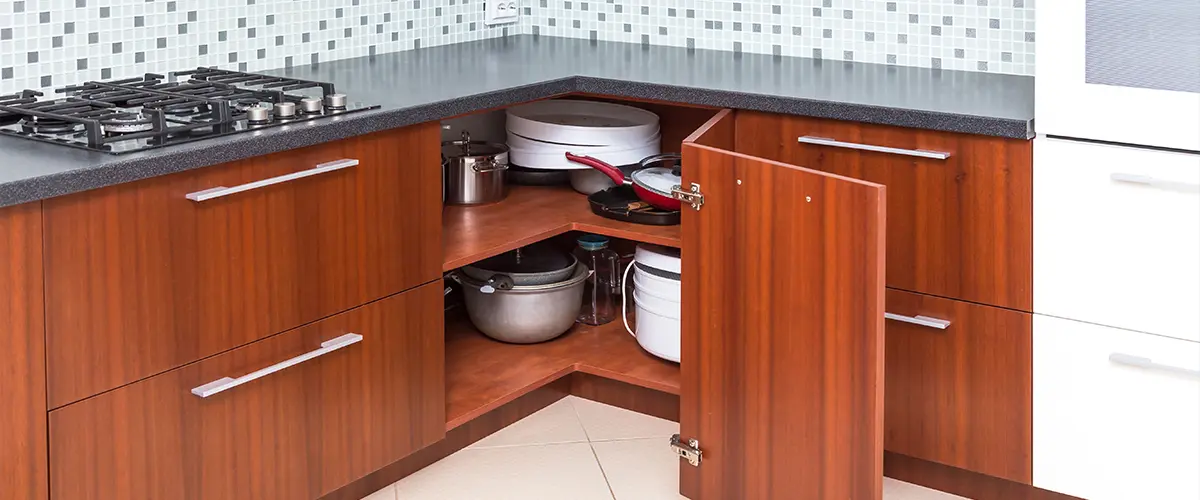 What You'll Need To Get These Features
Custom cabinets are the perfect solution for any space; they can easily be crafted to include all of your desired features. Whether you need extra storage, cleverly concealed appliances or a foolproof filing system, custom cabinets will get the job done with style and finesse.
If you're seeking to acquire any of these highly-efficient kitchen cabinet features, custom cabinets are definitely the way to go. You'll have your pick from a vast selection of designs, materials, and finishes in order to craft the ideal cabinetry for your culinary space.
By collaborating with an experienced cabinet builder, you can rest assured that the final product will exceed your expectations. With their expertise and attention to detail, they'll ensure that you get exactly what you wanted from the beginning!
Luckily, here at CB Remodels, we have our own carpenters and we have a lifetime experience in building homeowners the best custom cabinets they could've ever wanted. Check out our kitchen remodeling offer!
Call us today at (626) 598-0833 to schedule a consultation on your upcoming cabinetry project, or request a quote, and we'll get back to you as soon as possible!