Although CBRemodels is a highly-rated home remodeling company in Pasadena, we understand that there are other companies vying for your attention. We see our competitors as colleagues, sharing information and knowledge about the industry with one another. This way, we can all provide the best possible service to our clients.
We know which home renovation companies offer high-quality workmanship and which ones cut corners. By working together, we can ensure that everyone gets the best possible results from their bathroom remodel projects. Today, we'll give you our unbiased opinion of the best home remodeling companies in Pasadena.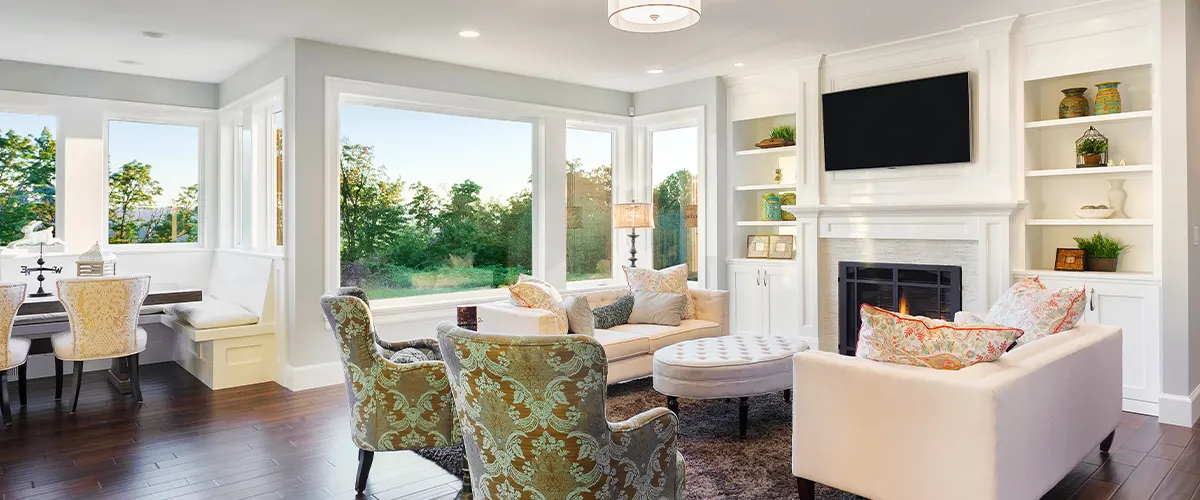 From our very first day, CBRemodels has been the top company for quality home remodeling in Pasadena. We're experts at a long list of renovation projects, including kitchen and bathroom renovations, home additions, and more. Plus, we've perfected a process that makes every home renovation as painless and enjoyable as possible for our clients. With us, you'll always be kept in the loop on everything happening with your project. And most importantly, our team will always focus on meeting your needs and demands above all else.
Satisfied homeowners and remodels done right have yet to become the norm in the contracting industry. Our approach always puts your needs first, while our specialized team and partners make quality a priority. At the end of the day, you'll get a top-of-the-line home makeover that no other contractor in Pasadena can offer. With CBRemodels, you're getting everything: from beginning to end.
This company built a beautiful wall for me, you might think – a beautiful wall – but that's what I needed. They built a decorative wall with permits and inspections in a timely manner. They were extremely professional in every manner. I would definitely use them again.
The nicest crew kept to a timely and beautiful workman-like construction. Easy access to get ahold of the superintendent, kept informed at all times as to timelines and work performed. Very pleased with the outcome and quality. Would hire again.
Pasadena Craftsman Bath & Remodeling
Pasadena Craftsman Bath & Remodeling is your one-stop design, construction, and remodeling firm for ADUs, additions, large-scale renovation projects, and craftsman historic restorations. Their kitchen and bathroom designs are next levels, and they have a team of experts that can breathe new life into your home according to your vision.
They possess great knowledge and expertise in all phases of development, from design, and entitlement, to construction so that all their clients can receive a top-notch renovation that brings their vision to life.
We needed an extensive plumbing repair that required us to open the ceiling and reroute some of the plumbing down the wall. Cesar was willing to discuss the possible options for the repair to come to the best solution. His workers were professional and efficient. I'm very happy with the quality of their work.
Cesar was very responsive and easy to deal with. There was never any delay in communication. His tile installer was an artist. The interior of the house was protected from the dust of the demolition and was left clean and uncluttered rack of the four weeks of the bathroom remodel. We would not hesitate to recommend Pasadena Craftsman.
S N Design Remodeling Inc.
S N Design Remodeling Inc. specializes in home redesign and remodeling to customer specifications. You can conference with one of their certified contractors about your ideas for the space, and they will draw up a plan to make it happen – within your budget. All work is licensed, insured, and backed by their quality guarantee.
I was a little skeptical of SN Design Remodeling Inc at first because they didn't have many reviews. Turns out this is a new location and just starting to operate in Pasadena. I am so glad I gave them a chance, the team is fantastic and took the time to understand my roofing needs before presenting me with options. They do great work and will make sure you're completely satisfied with it. Definitely recommend!
I am a realtor and I was looking for a trustworthy contractor to do a room addition. I found SN Design Remodeling INC on Google and called them up. They came out to the house, gave me an estimate right on the spot, and we were off! It took about 2 weeks for them to do the actual work, but it was worth it. I would recommend SN Design Remodeling INC for any of your remodeling projects.
Choice Granite & Kitchen Cabinets Inc.
With their long-standing experience and cutting-edge technology, Choice Granite & Kitchen Cabinets Inc. has modernized the remodeling experience. They provide a streamlined home remodeling process while maintaining quality, speed, affordability, and lasting relationships with clients.
At their company, we strive to not only give clients what they want– but also anticipate and understand their needs. They do this by creating products that are top-of-the line in both quality and efficiency. Their team is dedicated to making sure that every client feels heard and understood, while also providing them with the best possible product.
Greg and his team were great, they upgraded our countertops, cabinets, sink, and backsplash. 
Everything looks amazing, we're very happy with the work and will hire them again for our next upgrades
For countertops, Greg was extremely easy to work with. He is very helpful, not pushy, and extremely quick with his quotes and responses. The delivery and installation was exactly when he promised and his team did an outstanding job. His shop in Pasadena had far more samples than other places and the price was always lower. I wish I had gone to him for cabinets as well. I would definitely recommend him.
Modern Bathroom Remodel And Renovation Pasadena
If you're looking for home renovators in Pasadena, I would recommend giving Modern Bathroom Remodel And Renovation Pasadena a call. They always answer their phones and provide great service that is both honest and reliable. You can tell from the results of their previous projects that they have a lot of experience under their belt. Plus, their team is very creative with attention to detail which guarantees that your bathroom renovation project will be done right and exceed all expectations!
They handled everything for us. We selected the cabinets, the tiles, the fixtures, and the lights. They ordered those items and arranged delivered them. They also installed those items and brought in a plumber and an electrician. We didn't have to deal with any of that. They were great.
We had a wonderful experience with Modern Bathroom Remodel And Renovation Pasadena when we renovated a bathroom and kitchen. The designer was professional, pleasant, and quick to respond to all of our queries. They completed the project on schedule and within our budget. … We have already recommended them multiple times and will continue to do so!
While every company on this list is outstanding and will do a great job with your Pasadena home remodeling project, each has its own strengths. Quality can differ as well as reliability, but the best home remodeler in Pasadena is ultimately the one that puts you at ease and gives you confidence from start to finish.
At CBRemodels, the building process starts and ends with you. You'll be in charge of all decisions made regarding your home, and our team of experts will make sure that every single one of your needs is met to the highest standard.
If you're interested in getting a quote from one of the best bathroom remodeling companies in Pasadena, click the button below. If you want to reach us directly and discuss your upcoming project, call us at (626) 598-0833. We're happy to assist you in your home remodeling project!