Everywhere across The Golden State, it's essential to select a flooring material that withstands heat and UV damage, otherwise your kitchen will look all faded and old.
This article will guide you through the top six most durable and low-maintenance flooring options ideal for Californian kitchens.
Let's dive right in!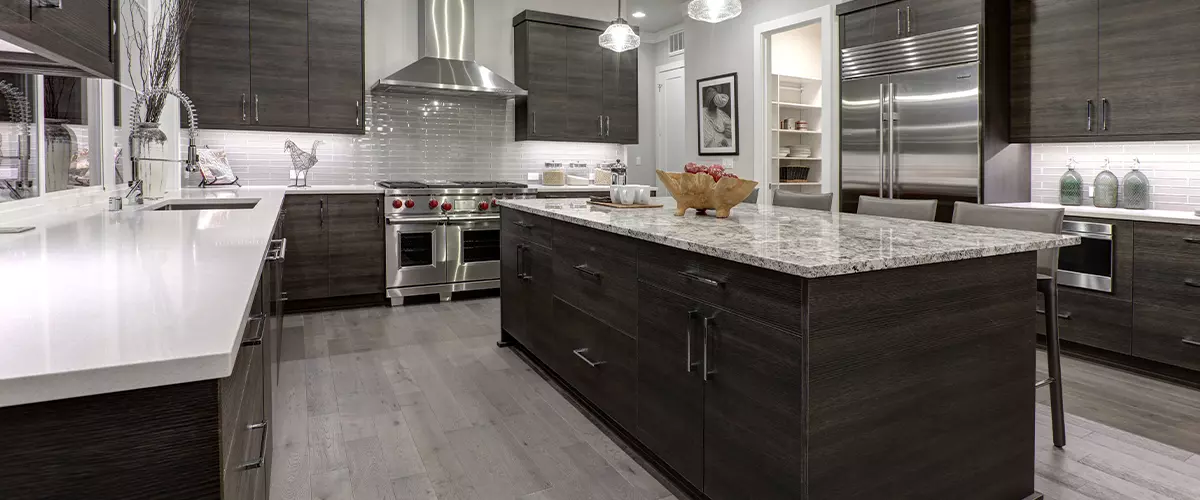 Top 6 Most Durable & Low-Maintenance Flooring Materials for Kitchens in California
Hardwood floors are a top pick for kitchens in California. They bring warmth and style to your cooking area, but also stand up well to heavy traffic. Many kinds of hardwood resist scratches, dents, and stains too, and even if they get damaged over time, you can refinish them to look brand new once again.
Hardwood is easy to clean with a dust mop or vacuum cleaner. It costs more than other options but lasts longer if taken care of properly. On the plus side, you can also refinish it many times for a fresh look!
Tile is a top choice for kitchen floors. It's hard and can stand up to drops or spills. There are many types of tile, like ceramic, porcelain, and stone. Each type has its own look.
Ceramic tile flooring is popular in California kitchens. It comes in lots of colors and sizes. Tile also keeps your home cool on hot days.
Plus, it's easy to clean so it's great for busy households.
| Type of tile | Average cost per square foot |
| --- | --- |
| Ceramic | $1 to $5 |
| Porcelain | $3 to $10 |
| Granite | $5 to $30 |
| Travertine | $3 to $30 |
| Cement | $8 to $20 |
| Luxury Vinyl (LVT) | $3 to $10 |
| Terrazzo | $10 to $50 |
| Custom or Artisan | $25+ |
Vinyl is a top pick for kitchen flooring in California homes. It's an affordable kitchen flooring option. You can choose from many colors and styles.
Vinyl stands up well to spills, heavy foot traffic, and pets' nails because it's very tough and hard to scratch. This kind of flooring is also soft underfoot, making it great for dining rooms and family rooms as well, so you can have the same floor throughout your home.
Plus, cleaning up messes from cooking or kids is easy with vinyl floors.
The average price of installing 200 square feet of vinyl plank flooring is between $1,000 – $3,400, including professional installation to ensure you get a stunning and properly installed floor.
Laminate is a great choice for your kitchen floor if you're not anticipating a lot of foot traffic. Laminate looks very much like real wood, but it's not as tough and can't be refinished. The best thing about laminate floors is that they're very cheap, so if you're looking for a quick makeover on a tight budget, this is the way to go.
At the same time, you should know that laminate fades quickly when in direct contact with UV rays and is not waterproof or water-resistant at all.
There are some pros though. This type of floor is easy to clean, and even easier to install.
| TYPE | INSTALLATION COST PER SQUARE FOOT | MATERIAL COST | AVERAGE TOTAL COST PER SQUARE FOOT |
| --- | --- | --- | --- |
| Laminate wood | $2 – $7 | $1 – $3.50 | $3 – $10.50 |
| Laminate tile | $2 – $7 | $1 – $4 | $3 – $11 |
| Laminate stone | $2 – $7 | $1.50 – $4 | $3.50 – $11 |
Concrete is a popular flooring choice in modern California kitchens, but might not be ideal for the homes' style in Pasadena.
However, if you have a modern home, concrete might work just fine as your kitchen floor. It is hard and tough so if you drop pots or pans, concrete won't break, dent, or scratch like some floors.
This material gives a sleek look that many young homeowners love. What's even better is that you can finish the concrete to look even better. You can color or stamp it however you want.
Concrete also lasts a long time and needs little care.
Stained Concrete Cost – $2 to $4 per square foot
Concrete Overlay Cost – $3 to $7 per square foot
Polished Concrete Cost – $3 to $12 per square foot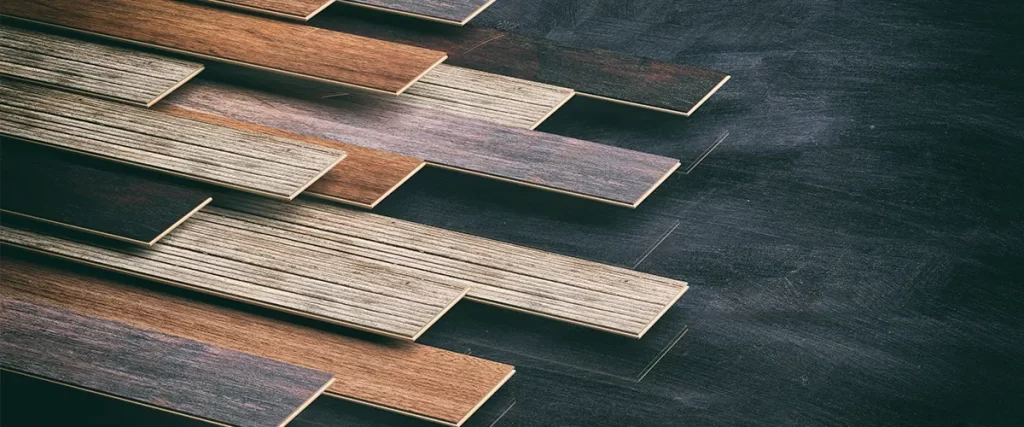 Choosing the Best Flooring for Kitchens in California: Factors to Consider
When selecting the best flooring for kitchens in California, it's crucial to consider factors such as durability, water resistance, and your budget.
Kitchen floors get a lot of use. They need to be strong to handle heavy foot traffic, spills, and drops. The best flooring for kitchens in California should be tough enough not to scratch or dent easily.
Hardwood, tile, and concrete are very durable kitchen flooring options. Likewise, vinyl and laminate are also robust choices that can last for years if cared for well. Take your pick among these popular flooring materials based on their durability when deciding on the top flooring choices for your California kitchen!
Water resistance is key for kitchen flooring. Floors often get wet from spills or leaks. Some materials can stand up to water better than others. For instance, vinyl and tile are good choices for a wet kitchen floor.
They don't let water soak in, and they're easy to clean up when something spills. However, hardwood may get damaged if water stays on it too long.
Picking the right floor for your kitchen can cost a lot. It is important to plan your budget first. This will help you choose the best flooring for you that also fits into your budget.
Lower in price, vinyl and laminate floors are great choices. If you have more money to spend on kitchen flooring, hardwood or tile could be good options. They look nice and often last longer, too.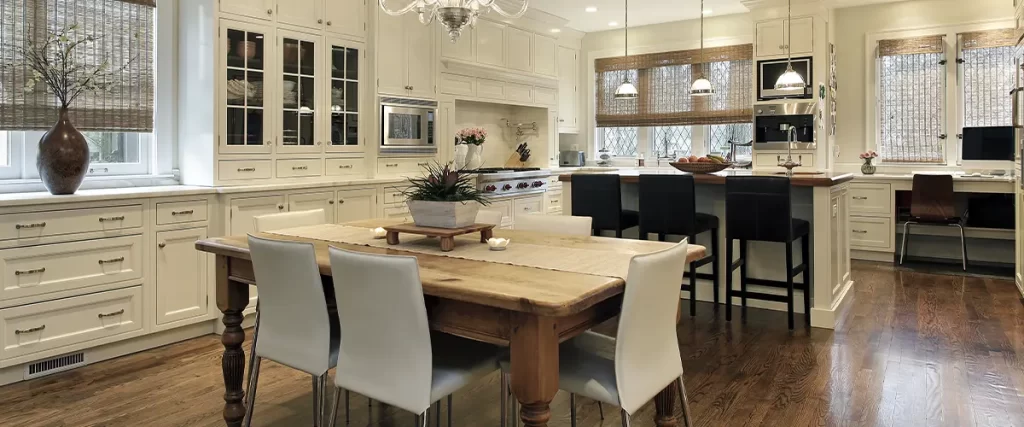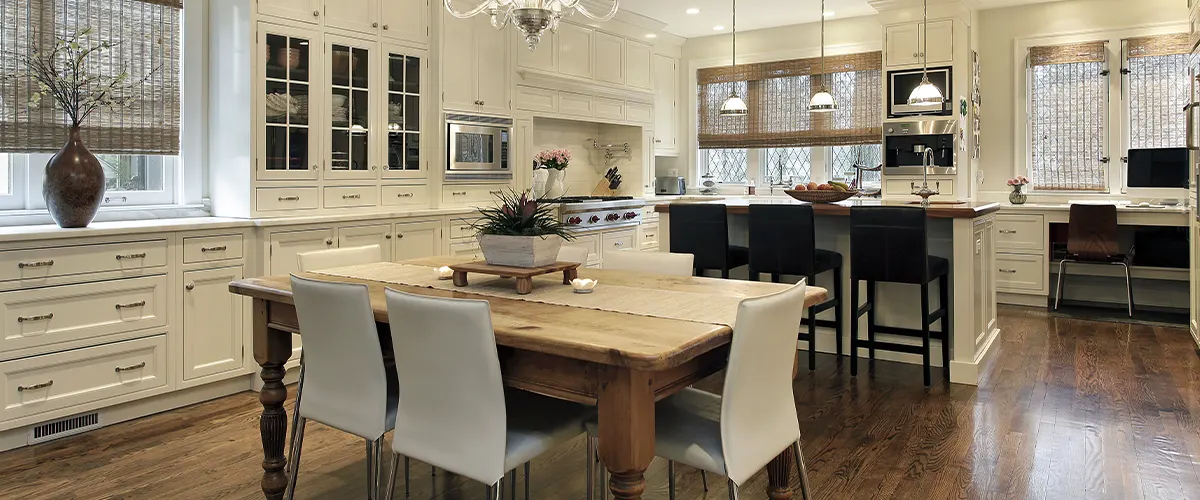 Your kitchen in Pasadena, California, will work best with a material that fulfills your needs. Usually, we see homeowners here going for luxury vinyl plank floors, tile floors, and even hardwood if they want to keep the same mood they have throughout their homes.
If you're unsure which is best for your particular needs, style, or budget, we're more than happy to help!
Send us a message and tell us about your home and your needs, and we'll tell you exactly what type of kitchen floor makes the most sense for your kitchen.