The bathroom is one of the most used rooms in the family and your personal retreat. It's where you can spend time alone and sing, or maybe reflect on the day and delight your senses, in addition to your daily habits. That's why bathroom remodeling is worth your full attention. According to The State of Remodeling in the U.S. (2022 Report), 93% of homeowners reported a better quality of life after finishing their bathroom remodeling.
To achieve the best results for your dream home, choose the best bathroom remodeling company in San Marino. You've come to the right place at CB Remodels because we offer our customers top-notch service and products. We always go the extra mile to ensure our customers are satisfied with the final product.
We go beyond normal remodeling and design your bathroom the way you dream. From the design to the materials we choose together, we'll ensure you get a final result you'll love to use every day.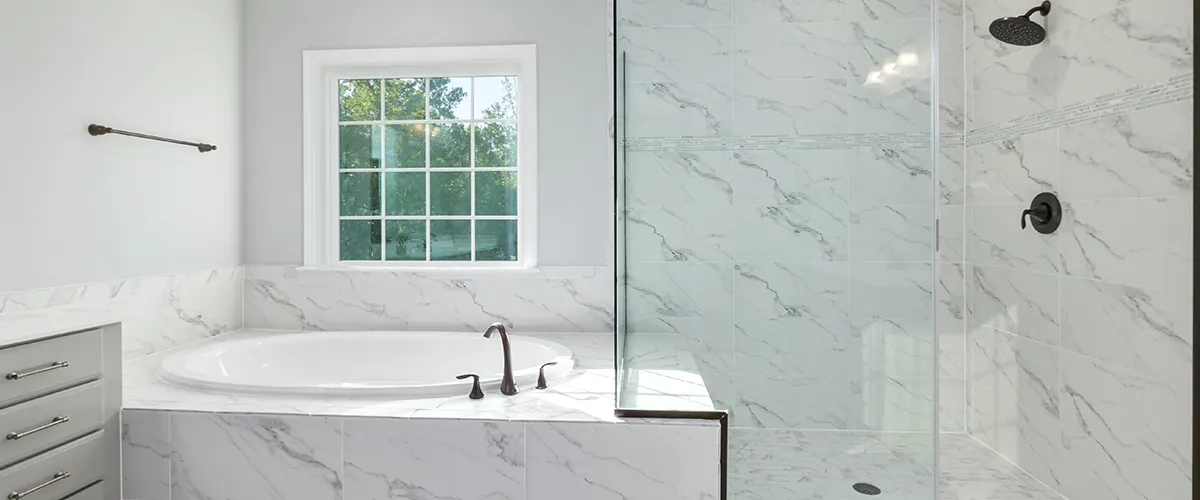 Bathroom Remodeling Contractors You'll Be Delighted With
We value you and your home. We go above and beyond what is agreed upon to ensure you're 100% satisfied. We want to know you're delighted with our work.
With CB Remodels – Home Remodeling Pros, you will get:
Fast and Reliable Bathroom Remodeling Services In San Marino
Many San Marino homeowners know that remodeling their bathrooms gives their homes a cozy feel. If you also want to renovate your bathroom, we're here to help. We'll ensure we understand your needs from the project's first steps. Then, we'll present you with the best options and help you find the right solutions for your bathroom remodeling project.
Our team of contractors and support staff is here to help you and answer any questions you may have. From architects, designers, electricians, and carpenters, you'll have access to all the essential information and tradespeople at every stage. When everything is complete, our professionals perform routine follow-up inspections to ensure our work is done correctly and all necessary changes are made.
Check out our bathroom remodeling offer and see what suits your needs. Request your free quote and get the best remodelers in San Marino on your project!
Your Neighbours In San Marino Love Our Work!
See below what homeowners in San Marino are saying about working with us. Get your bathroom remodeled by CB Remodels – Home Remodeling Pros, and enjoy premium remodeling services!
Chavez Brothers Construction are very professional and I would recommend them for any project you may have.
Jorge is great at communicating and gives daily updates with pictures as well as next-day objectives via email and text. The crew is very respectful and professional. They were willing to assist with minor repairs outside the scope of the project with no additional charges.
Work is done on time and within budget. They addressed any issues in a timely manner and made sure they were resolved to the homeowner's approval. Great company. Can't wait for the next project to have them work on with us!
Type Of Upgrades And Materials
With bathroom remodeling, several essential items exist, from the shower to the tile to the countertops. You can opt to use various materials and upgrades for every object, and sometimes it might be harder to choose.
We'll ensure you're happy with your home by helping you select the best options for your bathroom remodeling project. Let's see below which are the most commonly requested upgrades.
Beautiful Vanity And Matching Sink
Typically, you'll choose a vanity that matches your countertops and nicely rounds out the bathroom design. Whether you go for a freestanding or a built-in option, we'll help you choose the best materials. A wood vanity may be your first choice if you want a modern look. Complete it with a porcelain, marble, or stone sink, and you'll achieve a high-end luxurious vibe. For a more traditional look, choose a simple white plywood vanity completed with a new sink.
Whatever your choice, we'll be there for you every step of the process. At CB Remodels – Home Remodeling Pros, a great team will make sure you get top bathroom remodeling results.
One of the biggest challenges in remodeling your bathroom is choosing the best options for showers and bathtubs. If you have a large family with children in San Marino, California, or like to take long and relaxing baths, a bathtub may be one of the best options. However, many homeowners choose to replace their bathtub with a walk-in shower to make it easier to get in the shower after a stressful day at work.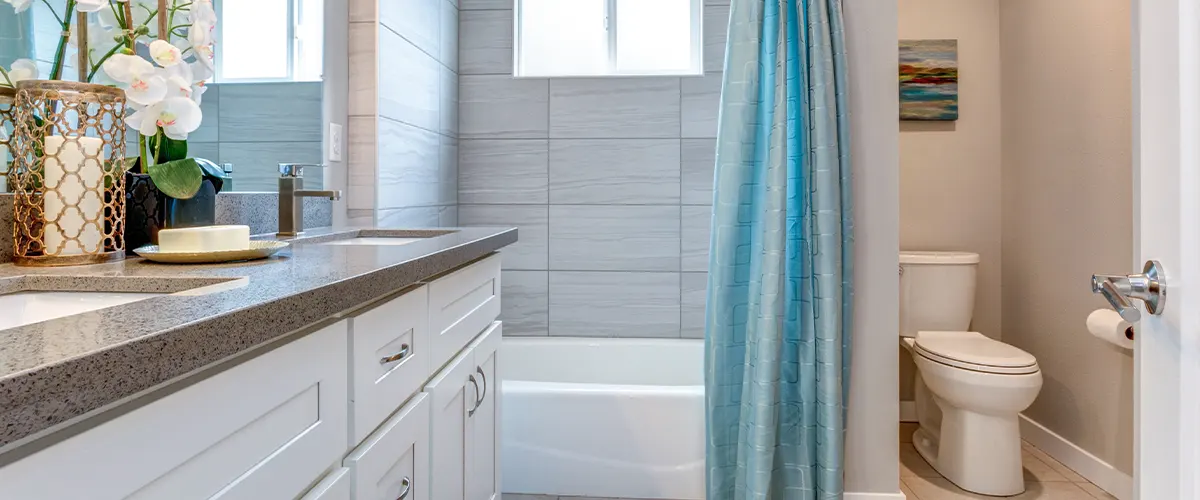 San Marino homeowners rejoice when they can choose the best countertop options, from design to color to material. We guide you to ensure your choices reflect the project's needs and provide a design that pleases all the senses and fits the scope of the bathroom remodeling project.
Quartz countertops are among our customers' top choices at CB Remodels. They combine the best of natural stone with modern manufacturing processes. The result is a surface comparable in beauty to (and often better than) granite and marble while also being more durable and visually pleasant.
The walls and flooring are the most important things that give your bathroom a beautiful look and a pleasant atmosphere. We select the best materials for your bathroom remodel to make your home enhance your lifestyle.
One of the most common options is tiles because they're one of the most affordable and easy to maintain. You can choose waterproof vinyl tiles, porcelain, or even marble if you want a more sophisticated version. We'll make sure your choices match the overall design and your preferences.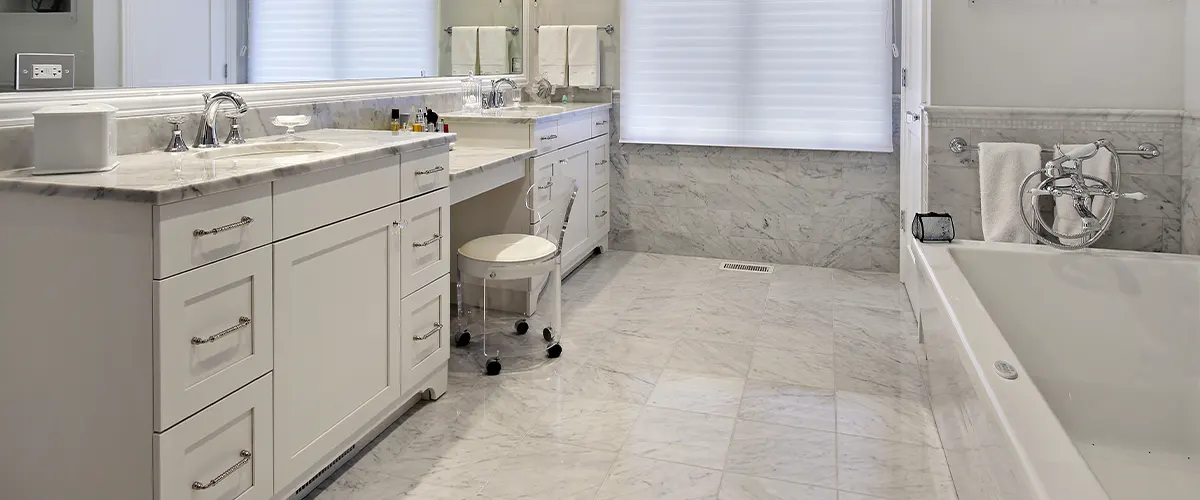 A Smooth Process For Your Bathroom Remodeling
We've made it our mission to eliminate any difficulty with your bathroom remodeling project while providing transparency like no other contractor. With us, you're always in charge, in complete control of your work, and informed of everything.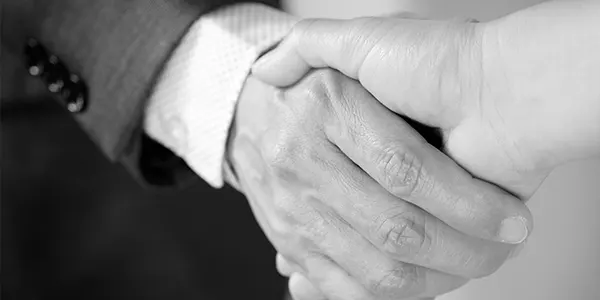 Request your free quote and let's open a conversation!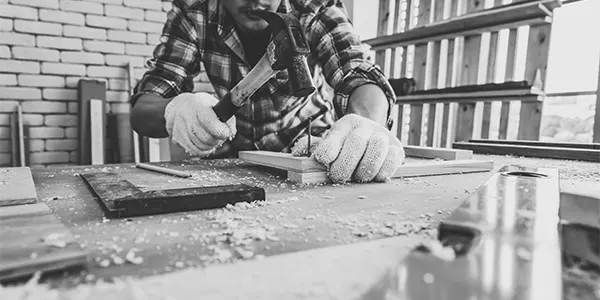 We'll discuss all the details and start building your dream bathroom.
Show off your new bathroom and enjoy all the benefits a remodel can give you!
Frequently Asked Questions
The time required for a bathroom makeover in San Marino generally depends on the specific requirements of your project. As a rule, full bathroom remodels typically take 3-4 weeks from demolition to completion. The timeframe may vary depending on the project's complexity and your material and functional choices. After our initial consultation, you'll receive a detailed timeline describing the various phases of the project, as well as a cost estimate.
If it's the only bathroom in your home, it's best to find a place where you can access a bathroom at any time while we remodel yours. If you have at least two bathrooms, you won't have to move out while one is remodeled. We use protective sheeting and wrapping to keep dust and debris in the project area and keep your home clean.
On average, we start most bathroom remodeling projects in San Marino between $32,000 and $35,000. This includes a three-piece bathroom, a guest bathroom, or a hallway bathroom. If you want to renovate a mid-range bathroom, you should expect to pay $40,000 to $65,000, while for a high-end bathroom, you'll need to pay more than $75,000.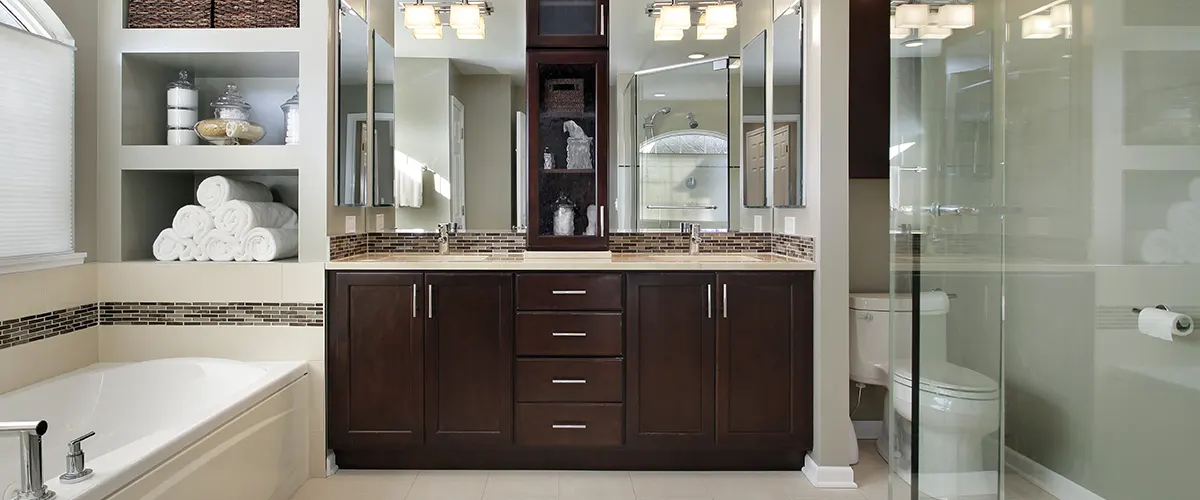 Get A Bathroom Designed Exclusively For You!
At CB Remodels – Home Remodeling Pros, we have a team of experienced bathroom remodelers who work daily to create the bathroom of your dreams. We are more than delighted to ensure customer satisfaction. Also, we want your space to reach its full potential.
If you live in San Marino and are looking for a reliable contractor for your next project, you've come to the right place!
Get ready to receive:
Your New Bathroom Awaits You!