If you need a company to handle your bathroom remodeling service in Monrovia, look no further than CBRemodels. We provide excellent service and high-quality products to satisfy our customers with the final result.
Our mission is to enhance the customer experience people experience with contractors by providing effective communication, a well-organized project management style, and an excellent bathroom renovation service. You can trust us to provide personalized attention to your project from beginning to end.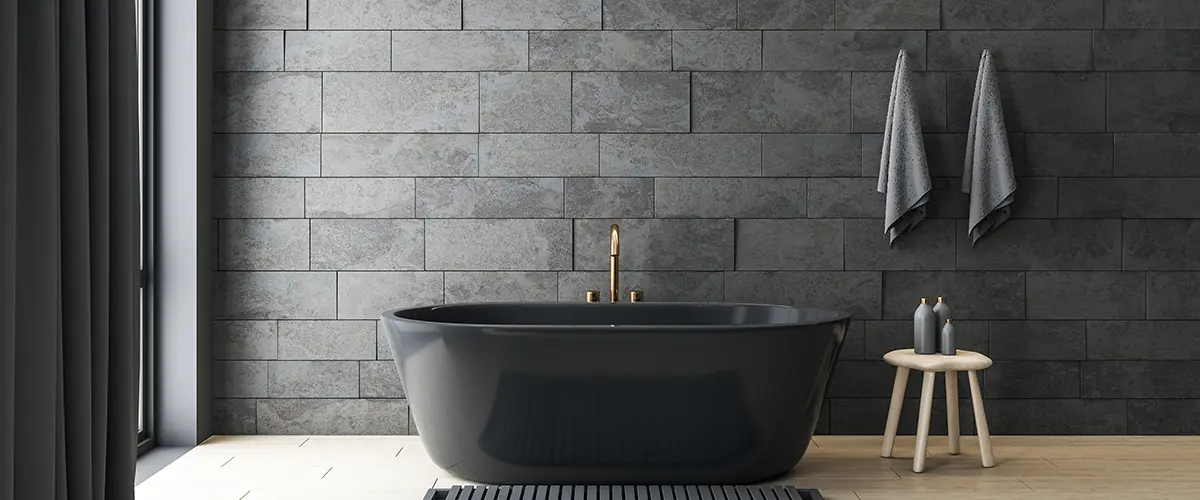 With An Exclusive Renovation, You Can Make Your Bathroom Your Own
We value both you and your property. As a result, we want to make sure that you are fully satisfied with our work. We strive to exceed the agreed-upon expectations to ensure your complete satisfaction. With CBRemodels, you'll also get:
Your Well-Deserved Bathroom Remodel - Now One Click Away
If you've been considering renovating your bathroom, it's time to act. Our process is designed to be easy and user-friendly, so getting started is simple. Throughout your project, we'll provide support and answer any questions you may have. We believe it's essential to have access to all relevant information and tradespeople– architects, designers, electricians, and carpenters–at each project stage. We make sure that this is always an option.
By conducting frequent walkthroughs, our s professionals will help you stay on top of your project throughout the entire process. Once we finish working on your project, we will conduct routine follow-ups to ensure everything was done correctly and make any necessary changes.
Check out our bathroom remodeling offer right now! Request your free quote and get the best remodelers in Monrovia on your project!
Our Customers In Monrovia Love Their New Baths!
This is what your neighbors in Monrovia are saying about working with us! Get your new bathroom remodeled by CBRemodels and enjoy a premium remodel!
Chavez Brothers Construction are very professional and I would recommend them for any project you may have.
Jorge is great at communicating and gives daily updates with pictures as well as next-day objectives via email and text. The crew is very respectful and professional. They were willing to assist with minor repairs outside the scope of the project with no additional charges.
Work is done on time and within budget. They addressed any issues in a timely manner and made sure they were resolved to the homeowner's approval. Great company. Can't wait for the next project to have them work on with us!
Type Of Upgrades And Materials
There are many options available for bathroom renovations, each with various materials to choose from. Trying to match everything together can be overwhelming, especially if you are starting from scratch.
We can help you decide which options would be best for you during an on-site consultation. However, we can also discuss some of the frequently requested upgrades right now.
Our bathroom remodels  typically include a new vanity as it serves both a functional and aesthetic purpose in the room. The vanity sets the tone for the whole space, so it is essential that all other elements in the bathroom complement or match the vanity to avoid a disjointed look.
Consider a wood vanity with slab doors if you want a polished and modern bathroom. However, if you prefer a traditional vibe, opt for shaker cabinet doors. Keep in mind that shaker doors will not give you a contemporary aesthetic.
For those with large families or those who prefer privacy while preparing themselves, twin or double vanities would be a suitable option. These vanities provide enough storage space and can effectively fill up an empty corner in a spacious bathroom.
As homeowners in Monrovia get older, they often opt to convert their bathtubs to walk-in showers. This is a safer alternative since traditional bathtubs can be hazardous to trip or slip in. Even older homeowners who want to update their bathrooms are increasingly choosing this option.
It is completely possible to keep your bathtub. Actually, a lot of homeowners keep both a shower and a bathtub for different purposes. You might prefer taking a swift shower before going out, but soaking in a fiberglass bathtub can be really relaxing after a stressful day.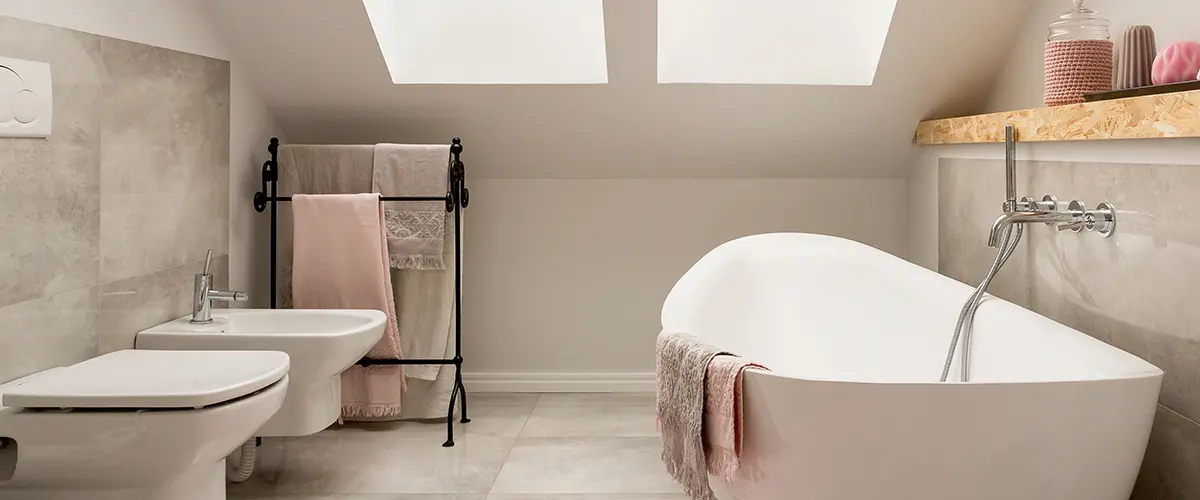 If you're changing the vanity, you'll probably need new countertops to match it. Using the old countertops will cause more problems later, so it's best to get new ones now and avoid future issues.
CBRemodels recommends quartz countertops as they are strong and less costly than other options. Quartz has a uniform pattern due to being a man-made material, resulting in a more seamless appearance than natural stones.
If you want to renovate your bathroom floor, using tile is a good choice. You can choose patterned or designed tiles that are budget-friendly and easy to maintain, while also adding personality to your bathroom.
If you prefer luxury vinyl tile and planks, they're water-resistant and can imitate the appearance of various materials like hardwood or stone. But, keep in mind that they are not completely waterproof.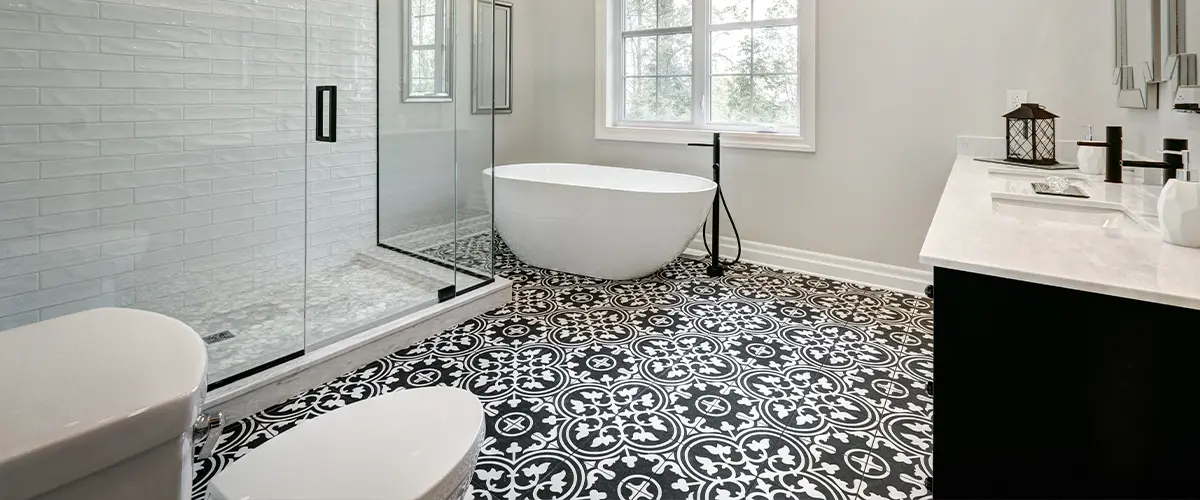 Simple And Quick Bathroom Remodeling Services In Monrovia
Take advantage of an easy and efficient procedure that tries to deliver a seamless experience with as little stress and worry as possible.
Join forces – Contact us, and we'll work together on the best way to approach your project.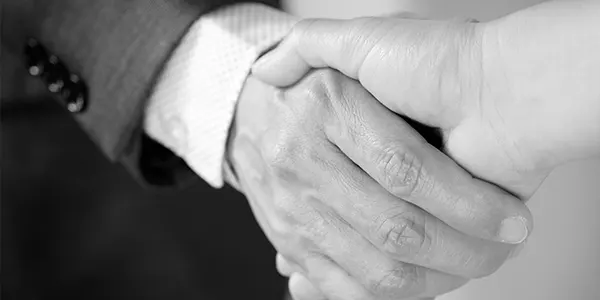 Request your free quote and let's open a conversation!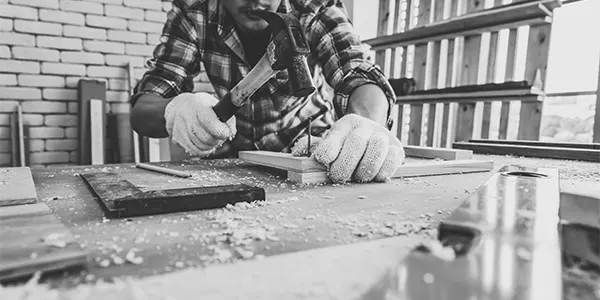 We'll discuss all the details and start building your dream bathroom.
Show off your new bathroom and enjoy all the benefits a remodel can give you!
Frequently Asked Questions
Typically, extensive bathroom remodels take around 3 to 4 weeks to complete after the demolition phase. Once we inspect your location, we can provide you with an exact timeline for your bathroom renovation.
To renovate a bathroom, there are three price ranges to remember. For a basic makeover, the cost ranges from $32,000-$35,000. A mid-range renovation is more expensive, with a cost range of $40,000-$65,000. For those seeking high-end upgrades, the price point is around $75,000.
Before proceeding with planning your ideal bathroom and issuing payment, be aware that several factors, such as the extent of work required and materials utilized, can affect the total cost of your project. For a detailed breakdown of estimated costs according to the project category, please visit our website, where a comprehensive guide is available.
For a successful home remodeling project, it's important to communicate clearly and consistently. We understand this; thus, our team works only with licensed and insured experts who strive to provide homeowners with the best experience possible. Moreover, as we understand Monrovia's building codes well, you can trust us to deliver the highest quality work.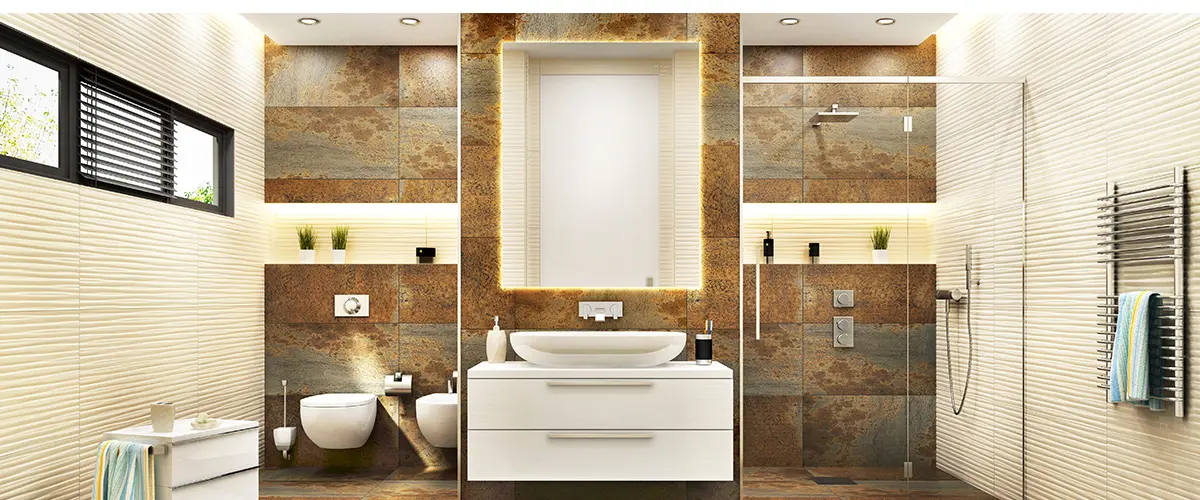 Get A Bathroom Designed Exclusively For You!
CBRemodels is committed to ensuring that you are completely satisfied and want to help you maximize the potential of your current space.
Our skilled bathroom remodelers will work endlessly to design the bathroom you have always envisioned. If you are located in Monrovia and need a trustworthy contractor for your next project, CBRemodels is the way to go!
Get ready to receive:
Your New Bathroom Awaits You!