According to the Cost vs. Value Report 2022, a bathroom renovation in Pasadena, California costs around $31,000 and is one of the top three home upgrades with the greatest return on investment. Minor bathroom repairs have a 67.5 percent rate of return, while major bathroom renovations produce a 59.5 percent profit margin.
At CBRemodels, we understand that a bathroom renovation can be a daunting and stressful process. We're here to take the guesswork out of it for you by providing a comprehensive breakdown of all costs upfront. Excellent renovations are always our top priority, but we also want to make sure that our clients are completely satisfied with the entire process – from start to finish!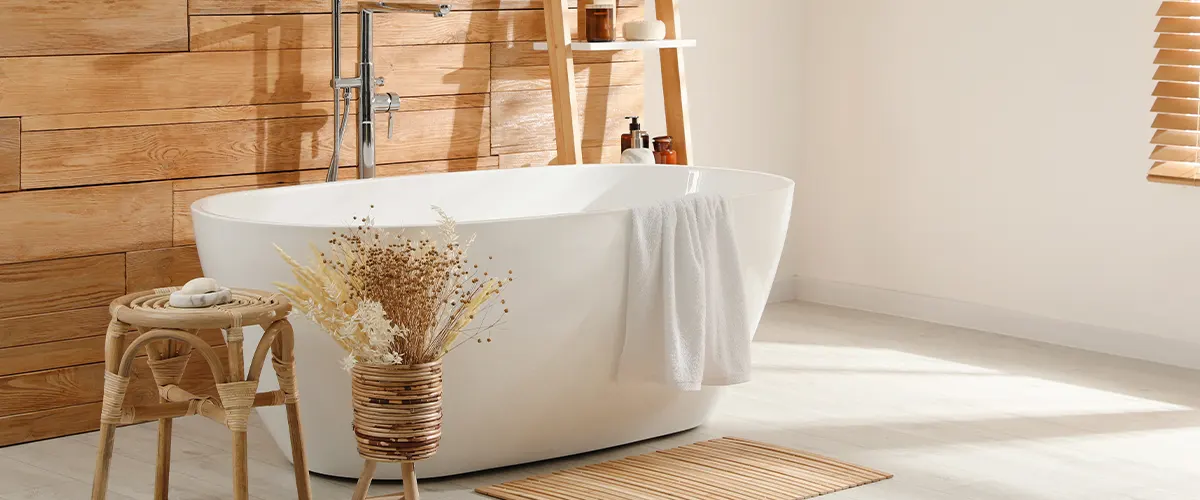 The Typical Bathroom Renovation Cost In Pasadena, CA
The cost of renovating your bathroom in Pasadena CA depends on the size of the space, materials used, and other personal details. The table below provides an estimate of typical expenses for different-sized bathrooms if you want to have a small bathroom remodel and are curious about project costs.
| Size | Average Price |
| --- | --- |
| Small <70 sq ft | $20,500 - $35,000 |
| Medium 100-150 sq ft | $35,500 - $60,000 |
| Large 200+ sq ft | $70,000 - $100,000+ |
After your in-home consultation, CBRemodels will provide you with a precise price quotation for all project components. We want to make sure your construction budget is not jeopardized, so we'll give money-saving suggestions for your bathroom remodeling project as well!
Labor In A Bathroom Renovation Cost In Pasadena
Bathroom remodeling may be a time-consuming process, but it does not have to be complicated. A bathroom renovation involves a number of specialists, including design and installation. Building and carpentry are just a few of the work activities in this category.
If you need to add new walls to your project, you'll need an architect. An architect is a professional who makes sure that any new rooms are safe and structurally sound. In order to apply for a building permit, you'll need the architect's drawings and plans. Architects generally charge between $65 and $400 per hour or a one-time fee of 10% to 20% of the total cost of your project.
You will need to hire a professional bathroom design if you want your new bathroom area to look amazing and function properly. A good designer will be able to transform your space into something beautiful that is also efficient. Most designers charge 10-20% of the total cost of the renovation; one-time consultation costs can range from $300-$1,500 depending on their experience level.
A plumber is needed to fix all sorts of bathroom water issues since handymen generally lack the skills to repair all possible leaks. A plumber will be able to provide a temporary repair as well as address the problem at its source, ensuring that it will not happen again. Plumbers charge between $70 and $150 per hour for their services, in addition to any necessary materials expenses.
When it comes to relocating your appliances, our goal is to assist you in the best possible way. When you're moving your equipment, be sure to update the electrical wiring as well. 
This will assure that the electric installation is safe. An electrician costs between $80 and $150 per hour, plus expenses, in most cases.
Bath Renovation Cost In Pasadena By Upgrades
Here is the cost of some of the most popular improvements and renovations in Pasadena, California to provide you with an idea of how much money you'll need for your bathroom makeover:
If you want to make a small bathroom more inviting, adding a toilet vanity that fits your design may do the trick. If standard bathroom storage doesn't cut it for you, then perhaps a twin vanity will be useful. And if you're looking to add powder room or guest bath with an added touch of luxury, choosing one with ornamental elements as focal point would be ideal. When it comes down to value, semi-custom is always tough to beat.
Beautiful, low-maintenance countertops are not only consequential in any room but also provide utility and beauty. If you're considering a long-lasting option, consider quartz worktops. The high-quality ones have no veins and offer a consistent pattern that can elevate your bathroom's appearance.
Quartz countertops are scratch-resistant, making them perfect for use in areas that see a lot of usages. Quartz comes in at around $75-$100 per square foot, placing it near the middle to a high end when compared to other options such as laminate or solid surface materials.
Other materials like granite in the bathroom have strength, durability, and scratch resistance. However, one of the major drawbacks of utilizing granite or marble in the bathroom is the high cost of installation.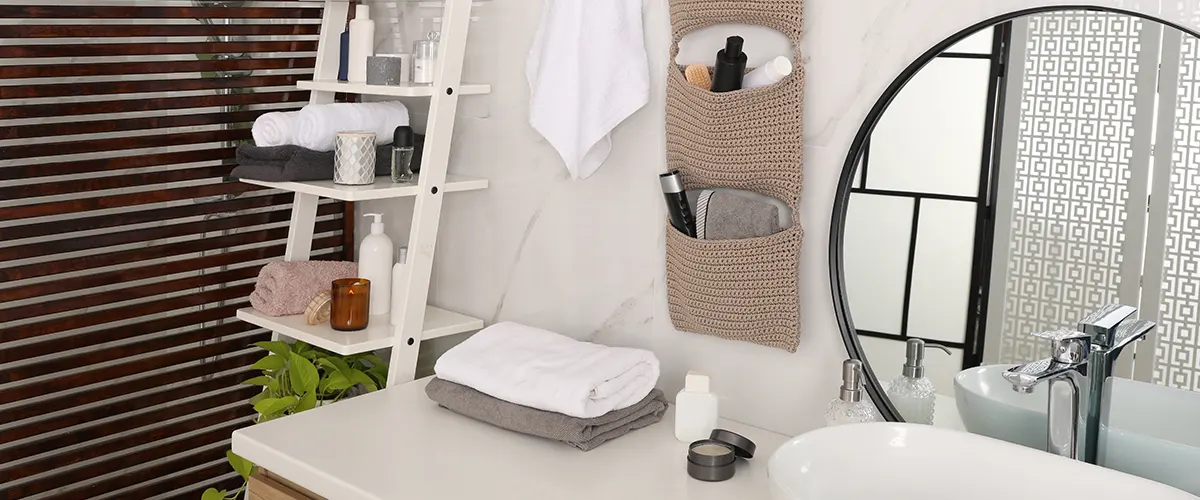 If you're wanting to do a home improvement but are on a budget, did you know that you don't always have to replace your flooring? If small portions of your hardwood floors are damaged, there's no need for an entire replacement. Also, laminate porcelain tiles commonly run less expensively ($10-30 per square foot) than other types of laminate flooring.
Homeowners who want to make their homes feel luxurious without spending a lot of money should choose vinyl flooring. LVT, which is available in wood and stone plank varieties, can give your home a luxe feel at an affordable price. According to national averages, most homeowners spend $1,600 to install 200sqft of 12″x24″ 20 Mil LVT with a textured stone finish.
You could elevate your bathroom's look by replacing an old tub during your makeover with a walk-in shower accompanied by glass shower doors, or if that isn't doable, then installing a freestanding tub. Although it would increase the cost of Pasadena CA's renovation project for your bathroom, it will be worth it eventually.
The average cost to renovate a walk-in shower is around $1,000 and up; this price largely depends on the size of the desired shower as well as which materials you choose.
On average, tiling an entire room is more expensive than installing a shower pan. In certain cases, it's more expensive to tile the flooring and surrounding in particular. By most local homeowners and bathroom renovation professionals, for example, porcelain is regarded as superior quality than ceramic; nevertheless, expenditures can fluctuate from $2k to $10k in various situations.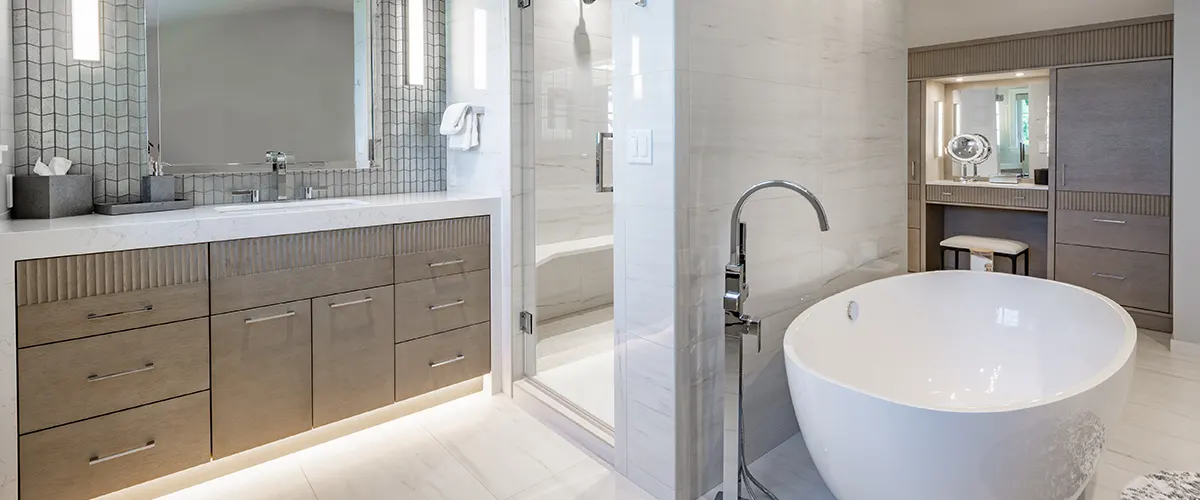 Budgeting For Your Bathroom Renovation Cost In Pasadena CA
There's a lot of hard work that goes into making your home feel brand new, and renovations rarely convey the whole picture. They frequently include a bathroom makeover that is far beyond the means of most people.
Worse still, these shows seldom go into detail about how much each component costs. This leads to consumers having unrealistic expectations for their own projects, putting them at risk of overpaying. Here are some money-saving ideas for remodeling!
Bathrooms are personal so shouldn't we spend less money on smaller enhancements if we aren't 'pamper-yourself' types? If you do like spending some time in your own bathroom, focus instead on making it attractive. Design and style are frequently two areas where more contact with your designer would be beneficial.
Although it may not appear to be the case, one of the most essential components of renovating your bathroom is having a plan in place for any unforeseen circumstances. Mold, mildew, and plumbing problems are all frequent issues that occur during construction projects.
Set aside an additional 20% from the overall cost of your project as a safety net in case something goes wrong. It's always preferable to be cautious than sorry! This extra cash will continue to accumulate if everything goes well.
Know What You're Paying For
Many people don't realize that, in general, it is less expensive to renovate a bathroom than to change a bedroom or kitchen. Part of having a seamless experience is being aware of all the costs before starting the project; then, there will be no unpleasant surprises later on.
You might think you can find a trustworthy business by yourself, but you may end up wasting more time and money this way. Prior to agreeing to anything, inquire about any fees or miscellaneous charges related to the project. This way, you can plan and budget accordingly. The National Kitchen & Bath Association conducted research and produced a paper that outlines how much it costs on average to remodel a bathroom – be sure to give it a read!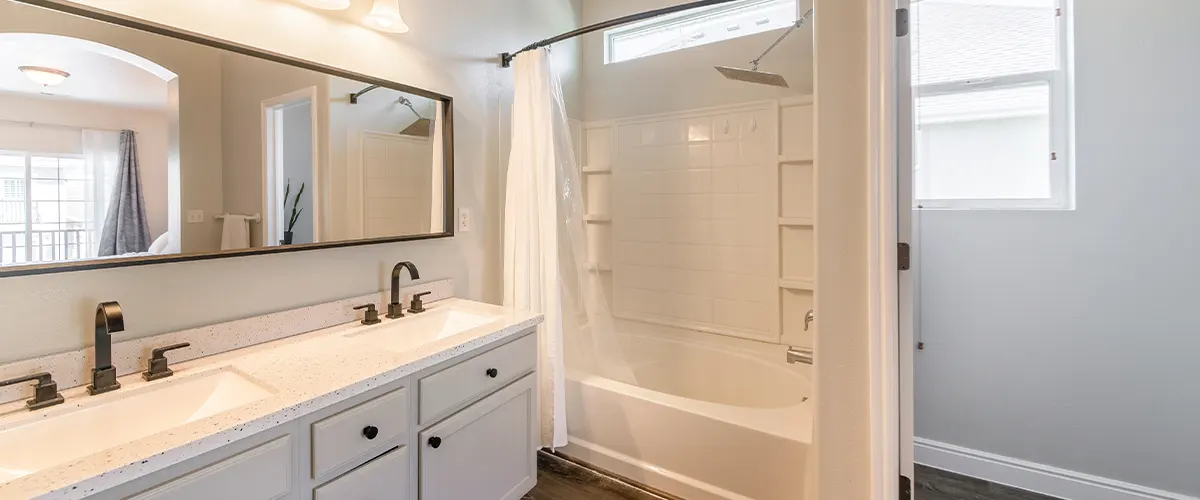 Get Pricing Transparency For Your Bathroom Remodeling Cost In Pasadena CA!
CBRemodels will collaborate with you to build the ideal bathroom for your house, no matter how big or little it is. The overall cost of a renovation ranges from $30,000 to $150,000, depending on the materials utilized. We keep track of your project and stay on schedule and under budget when we do bathroom renovations for you.
Unlike most bathroom remodeling companies, we tend to over-deliver, so expect:
Begin Your Bathroom Remodeling Project Today With CBRemodels!
Request a free quote and let's discuss your upcoming bathroom remodeling in Pasadena CA! Or talk directly with the owners at (626) 598-0833 and see if we're the right fit.