If you're looking for a company to handle your bathroom remodeling in Temple City, CB Remodels is your solution. We offer excellent service and use high-quality products to ensure our customers are satisfied with the end result.
We aim to improve your experience with contractors by ensuring clear and efficient communication, proper organization of the project, and delivering exceptional service for your bathroom renovation needs.
Rest assured, we will provide personalized attention to your project from start to finish.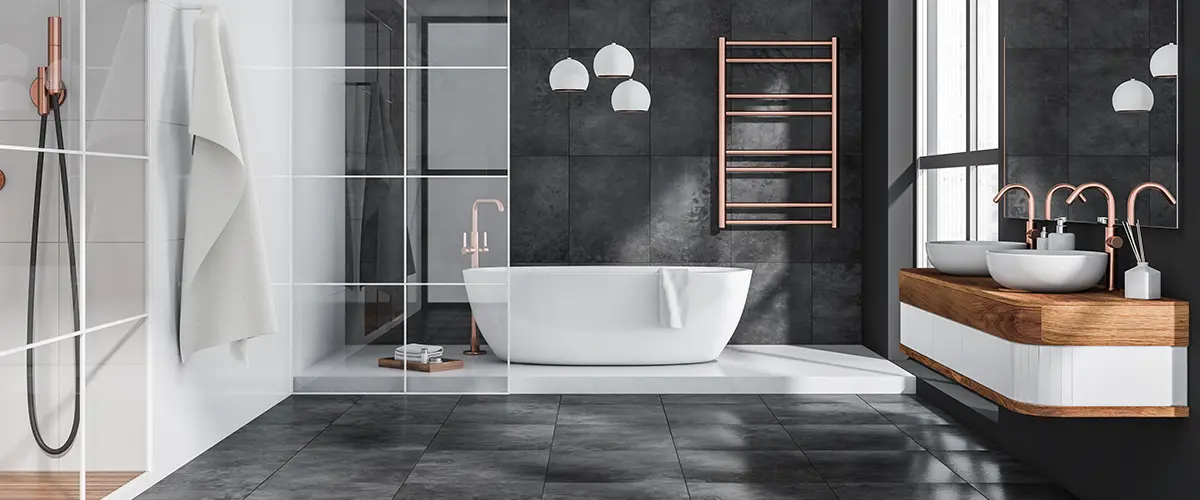 Make Your Bathroom Your Own - With CB Remodels!
We appreciate you and your property and aim to provide satisfactory work. Our goal is to exceed the expectations we agreed upon so that you are completely satisfied.
With CBRemodels, you'll also get:
Get To Fully Enjoy Your Home With A Quality And Functional Bathroom!
If you're thinking about renovating your bathroom, don't wait any longer. Our renovation process is designed to be straightforward and accessible so that you can get started quickly. We are available to support you throughout your project and answer any questions you may have.
We believe it's crucial to have access to all the necessary information and experts – such as architects, designers, electricians, and carpenters- at every stage of the project, and we ensure that this is always possible.
Our professionals will conduct frequent walkthroughs to keep you updated on your project and ensure everything runs smoothly. After completing the project, we will also do routine follow-ups to confirm that everything is correct and make any necessary adjustments.
Check out our bathroom remodeling offer right now! Request your free quote and get the best remodelers in Temple City on your project!
Our Customers In Temple City Love Their New Baths!
This is what your neighbors in Temple City are saying about working with us! Get your new bathroom remodeled by CB Remodels and enjoy a premium remodel!
Chavez Brothers Construction are very professional and I would recommend them for any project you may have.
Jorge is great at communicating and gives daily updates with pictures as well as next-day objectives via email and text. The crew is very respectful and professional. They were willing to assist with minor repairs outside the scope of the project with no additional charges.
Work is done on time and within budget. They addressed any issues in a timely manner and made sure they were resolved to the homeowner's approval. Great company. Can't wait for the next project to have them work on with us!
Type Of Upgrades And Materials
With so many options for bathroom renovations and a wide range of materials available, it can be overwhelming to coordinate everything, especially if you're starting from scratch.
We can recommend which options would be most suitable for you during a consultation at your location. Additionally, we can currently converse about common upgrade requests if you would like.
When we remodel a bathroom, we usually install a new vanity. This is because the vanity is important for both its practical use and how it looks in the room.
Since the vanity sets the style for the whole bathroom, it's important to ensure everything else in the room works well with it. If things don't match, the bathroom can look disorganized.
If you want a modern-looking bathroom, choose a wood vanity with slab doors. But if you prefer a traditional style, select shaker cabinet doors. Just note that shaker doors will not achieve a contemporary vibe.
If you have a big family or value privacy when getting ready, twin or double vanities would be a good choice. They offer ample storage and can make use of empty space in a large bathroom.
Many homeowners in Temple City prefer to convert their bathtubs to walk-in showers as they age. This is because traditional bathtubs are more prone to causing slips and falls, and walk-in showers are a safer alternative.
Additionally, even older homeowners who want to renovate their bathrooms are increasingly selecting this option.
You don't have to get rid of your bathtub. Many homeowners choose to have both a shower and bathtub for different needs. Showers are quick and great for getting ready, while soaking in a fiberglass bathtub can be a relaxing way to unwind after a long day.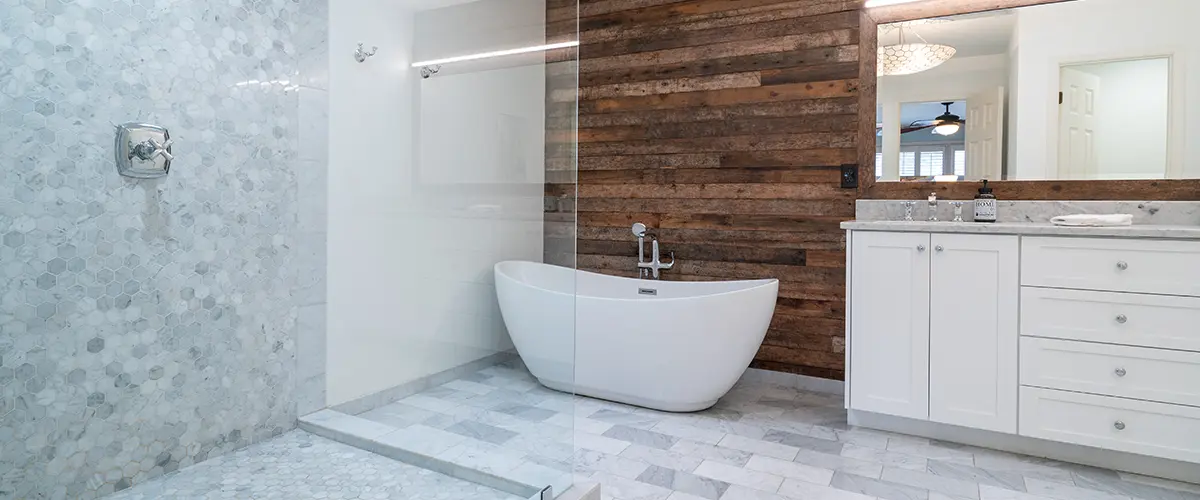 If you're replacing the vanity, it's best to get new countertops that will match it.
Reusing the old countertops can lead to future problems, so replacing them now is better and avoid any issues later on.
Here at CBRemodels, we recommend choosing quartz countertops because they are durable and more affordable than other countertops. Moreover, since quartz is a synthetic material, it has a consistent pattern which gives it a smoother look than natural stones.
Using tiles to renovate your bathroom floor is a great option. You can go for patterned or designed tiles, which are cost-effective and low-maintenance. This will not only add a personal touch to your bathroom but will also be budget-friendly.
Luxury vinyl tile and planks are a good choice if you want water-resistant flooring that can mimic hardwood or stone. However, it's important to note that they are not fully waterproof.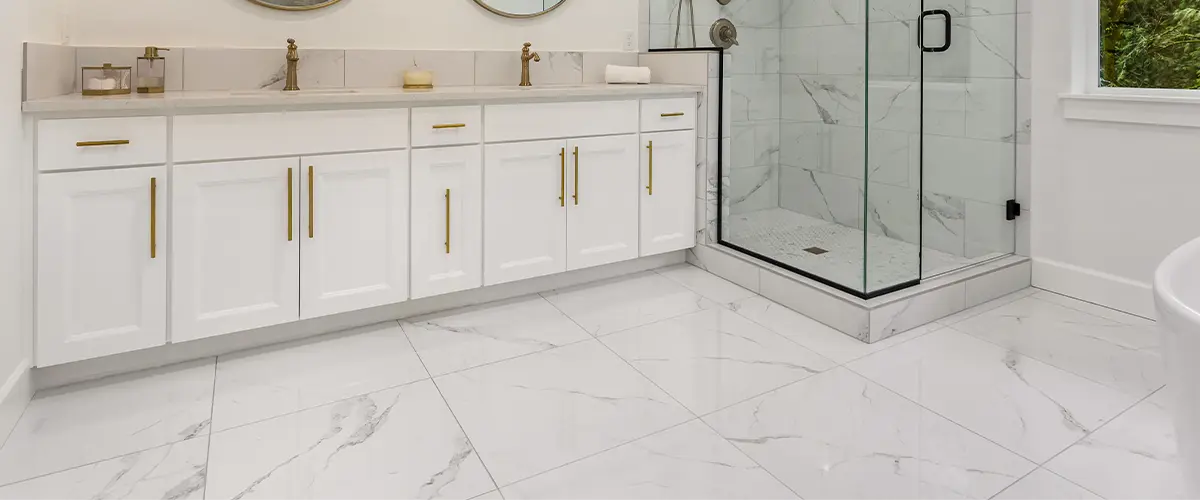 Bathroom Remodeling - Now Easier Than Ever
Experience a stress-free and efficient process that is designed to be easy and seamless.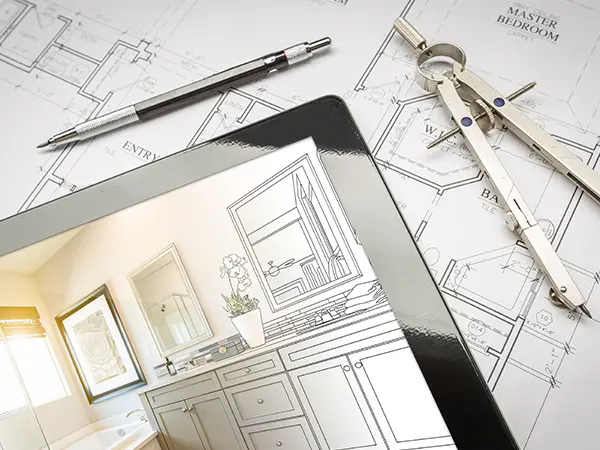 We help you define your vision for your bathroom until it's perfect in every way.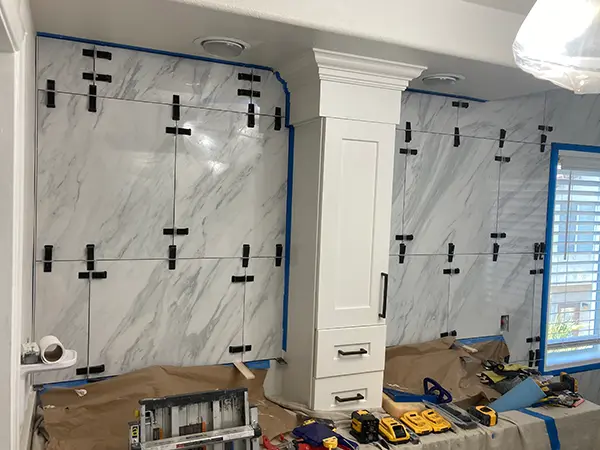 We bring all hands on deck to complete your bathroom remodel fast and efficiently.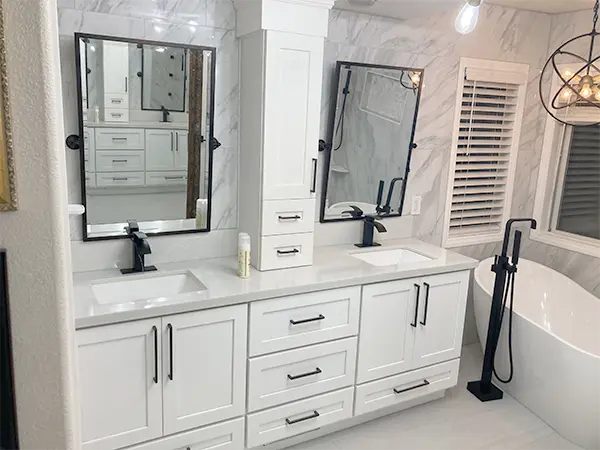 Start and end your day in a space that excites and inspires you.
Frequently Asked Questions
On average, it takes about 3 to 4 weeks to finish a complete bathroom remodel once the demolition is done. We will give you an exact timeline for your bathroom renovation after we examine your location.
When renovating a bathroom, consider the three different price options available. A basic makeover will cost between $32,000 and $35,000. A mid-range renovation will be more expensive, ranging from $40,000 to $65,000. And finally, for those looking for high-end upgrades, the cost will be around $75,000.
Note that the total cost of your bathroom project can vary based on factors such as the scope of work and materials used. Before making a payment and starting the planning process, we recommend reviewing our website for a detailed breakdown of estimated costs based on your project category. Our website offers a comprehensive guide to assist you.
To ensure a successful home remodeling project, clear and consistent communication is vital. Our team only works with licensed and insured experts who aim to provide homeowners with an excellent experience. Additionally, we're well-versed in Temple City's building codes, so you can rely on us to deliver top-quality work.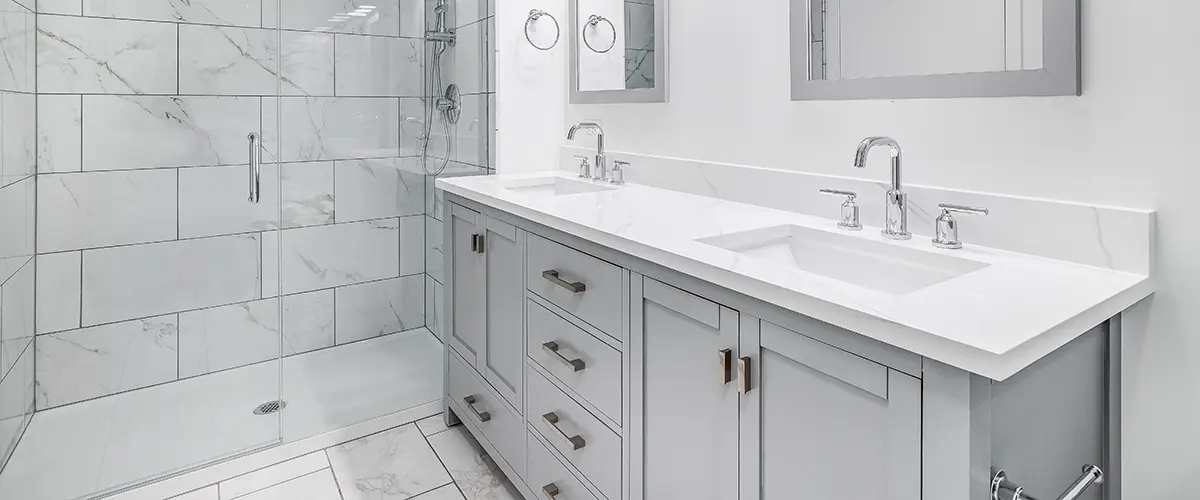 Enjoy A Bathroom Exclusively Designed For Your Needs
CBRemodels is dedicated to making sure that you are fully content with their service and strive to assist you in realizing the full potential of your current space. Our proficient bathroom remodelers will tirelessly work to create the bathroom of your dreams.
If you are looking for a reliable contractor for your next project and are situated in Temple City, consider CBRemodels as your top choice.
Get ready to receive:
The Best Time For A Bathroom Remodel Is Now