Do you want to update your small bathroom, but aren't sure where to start? Small bathrooms come with unique challenges and expenses when it comes to remodeling.
Don't let these worries stop you from achieving the stylish and functional new look you desire; we've compiled all the necessary information for the successful planning and execution of a small bathroom remodel – from budget considerations to project-managing advice.
Read on for everything you need to know on how best to tackle your soon-to-be stunning small bathroom transformation!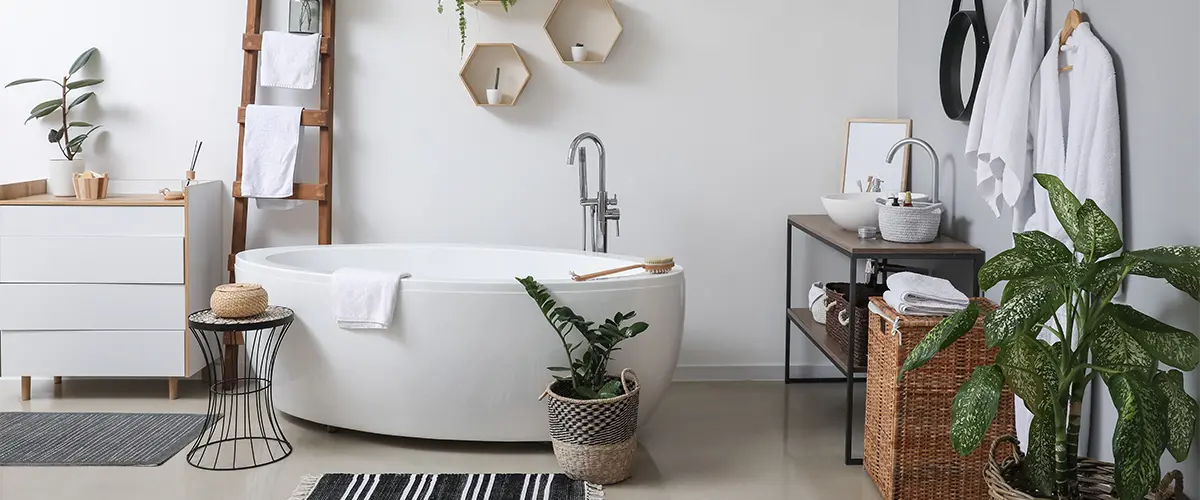 Small Bathroom Remodeling Costs
A small bathroom renovation completely boosts spirits in your home. Whether it's an old powder room that needs a fresh look or a half bath waiting for a makeover, you need to know what to expect regarding costs.
Design & Planning: If you're unsure where to begin, you may want to consider hiring an interior designer or architect for professional guidance. A lot of professional contractors work with in-house designers and to give you a complete experience from start to finish. The initial investment may seem daunting, but the value they can add to your project is priceless. With their expertise, you'll be able to create a space that looks beautiful and functions flawlessly.
Materials: Your dream bathroom renovation can be within reach, but it's important to consider the impact of material choices on your overall cost. It's not just about picking the most expensive options – quality and style can affect the final tally. For example, flooring can range from affordable to extravagant, with options from $2 to $20 per square foot (and that adds up quickly when you think about the total square footage of the bathroom). A vanity can also vary widely in price, ranging from $200 for a basic option to $2,000 or more for a luxurious upgrade.
And don't forget about fixtures like sinks, toilets, and showers – these can cost anywhere from $100 to $2,000, depending on the style you want. Even lighting can add up quickly, with fixtures ranging from $50 to $500 or more. So choose wisely, and remember that the right combination of materials can create a stunning bathroom without breaking the bank.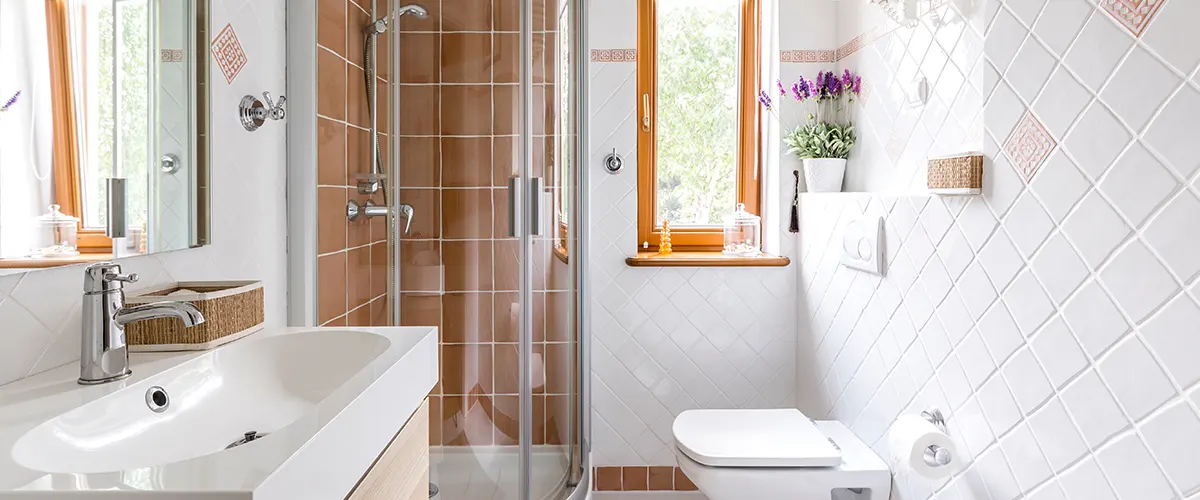 Labor Costs: A bathroom renovation is a valuable investment, but it comes with a hefty price tag. Labor costs can be one of the most significant expenses you will face. The price you pay will depend on how intricate the project is, the skill level of your contractor, and where you live. It's crucial to factor in these costs when planning a renovation, so you don't face any unexpected financial burdens. Hiring an experienced contractor will pay off in the long run and ensure your bathroom remodel looks flawless.
Permits: When tackling a renovation or building project, you'll want to be sure to check in with your local building department to see what permits you might need to obtain. Sure, permit fees vary depending on where you are and what type of project you're working on, but consider this: while it might add a couple of hundred dollars to your total cost, it's worth the investment to ensure that your project is up to code and safe for you and your family. Plus, you'll be able to rest easy knowing that all of your hard work is legal and certified.
Contingency: As you're gearing up for your renovation, don't let unpredictable expenses catch you off guard! Allocate some extra cash as a contingency budget so any unexpected hiccups do not blindside you during the process. Planning for 10%-20% of the total project cost should do the trick
The Key Steps For Remodeling A Small Bathroom
While everyone's dream bathroom is different, a lot of the process stays the same, so here are some main steps for remodeling small bathrooms.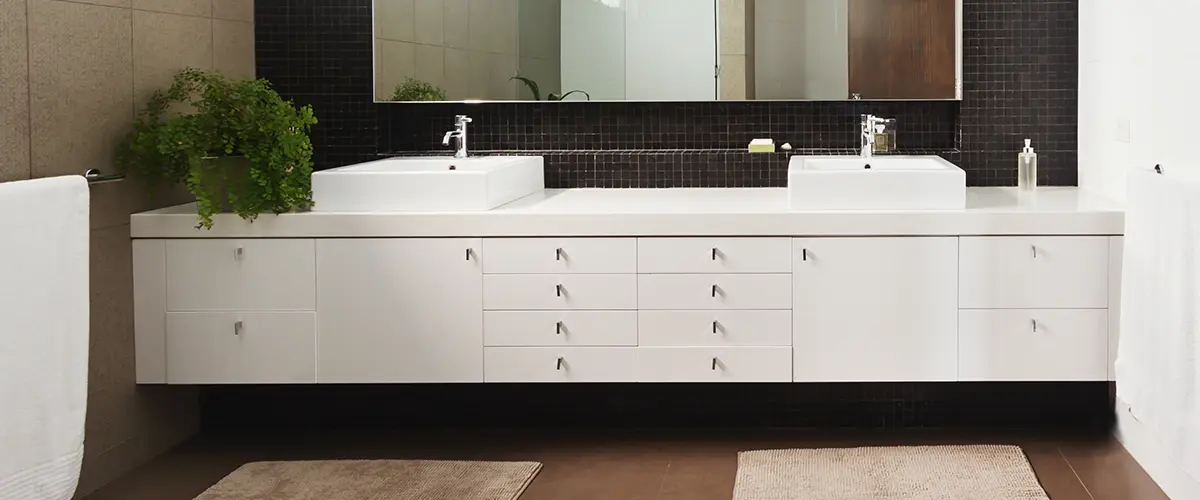 Before you start tearing out your floor tile and pedestal sink for your bathroom remodeling project, take the time to set a realistic budget and plan your dream design.
By balancing your finances with your desired layout, finishes, and storage options, you'll end up with a beautiful bathroom that's both functional and affordable
While DIY is all the rage, tackling a bathroom remodel alone may not be the best option. Don't toss your budget out the window or struggle with unexpected issues – hire a professional contractor!
Your bathroom remodel can be completed efficiently and to code with their expertise. To find the right contractor for you, look for someone with extensive experience in bathroom remodeling and glowing references from satisfied clients. Trust us, your dream bathroom is worth investing in a professional.
Revamping your bathroom means bidding farewell to the old and welcoming the new. Demolishing the outdated space involves tearing down the existing fixtures, flooring, and drywall. Be ready for a bit of a mess, as debris and dust are likely, so protect your furniture by draping them with plastic sheeting.
The joy of renovation lies in crafting your dream bathroom, starting with a clean slate, so embrace this exciting phase of the process.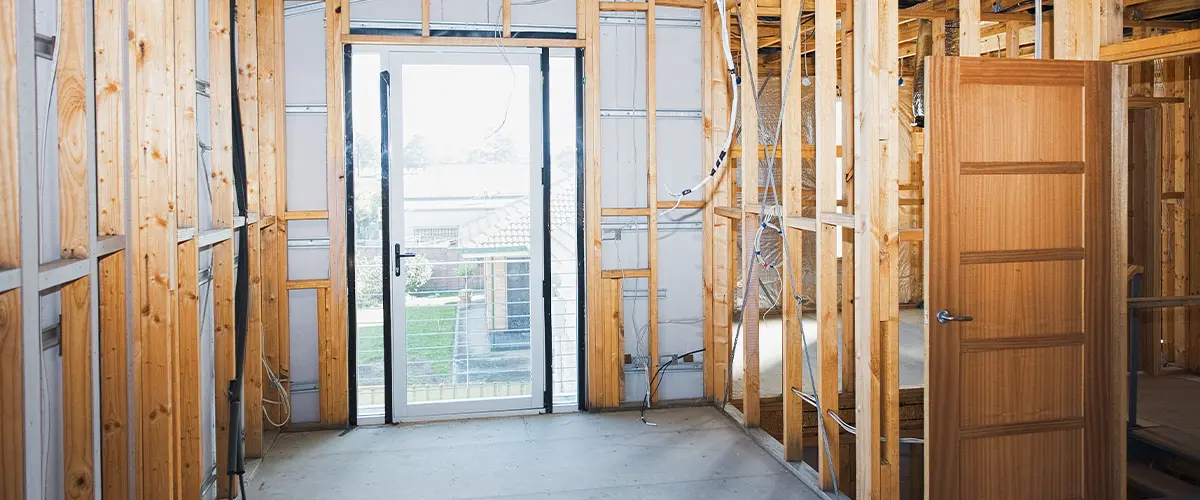 Get ready to bring your dreams to life after the demolition is done! It's time for your contractor to work their magic with rough-in plumbing and electrical.
Say goodbye to outdated pipes and wiring and hello to custom-made fittings and lighting where you want them. All the fixtures and outlets you've been dreaming of will soon be within reach.
After all the rough-in work is done, it's finally time for the fun part: adding those finishes that will transform your space into a spa-like sanctuary. Imagine stepping onto brand-new flooring, admiring the sleek tiles on your newly-tiled walls, and feeling the smooth new drywall under your fingertips.
And let's not forget those gleaming new fixtures, from your shiny sink to your luxurious shower or bathtub. Your contractor will handle all the installation, so sit back and get ready to enjoy your beautiful new relaxation spot.
Once the new fixtures and finishes have been installed, your trusted contractor will work magic to finish the job with a flourish. This involves adding your desired coat of paint to the walls, putting up any final accessories, and cleaning the workspace well.
But the best part? Your contractor will review every inch with you during a final walkthrough to ensure everything exceeds your expectations.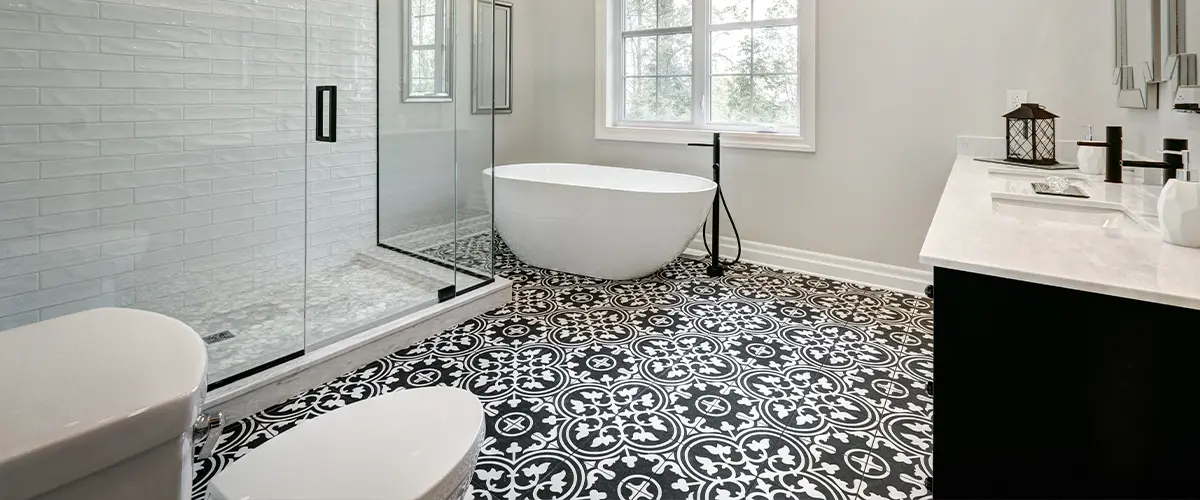 How To Make A Small Bathroom Appear Larger
It might be difficult to achieve a sense of spaciousness in a tiny bathroom. Here are some small bathroom ideas to help make the space seem larger.
Paint in Light Color: Transform your small bathroom into a bright and spacious oasis by opting for light colors on the walls, floors, and fixtures. Say goodbye to cramped quarters and hello to openness with the help of pale whites, soft beiges, and delicate pastels. These hues reflect light, giving the illusion of a brighter and more expansive space. Give your bathroom a refreshing facelift that'll have you feeling invigorated and ready to tackle the day.
Buy a Large Mirror: Looking to magically expand this small room without knocking out any walls? A large mirror might be your answer! Not only will it reflect natural and artificial light, but it'll create the optical illusion of added space. Don't be afraid to go big with a mirror above your sink or across a whole wall for a spacious upgrade.
Pick the Right Lighting: A well-lit bathroom can make the space feel bigger and more inviting. Don't settle for harsh overhead lighting – consider installing some chic recessed light fixtures or wall sconces that direct light upward for a more spacious feel.
Go With a Clear Shower Enclosure: Take your small bathroom from cramped to open and airy with a simple design trick – a glass shower door. Rather than feeling boxed in, a frameless or clear glass door will allow light to pass through, instantly giving the illusion of a larger space. Sure, a shower curtain is cheaper, but it will make a small space appear even smaller.
Keep Clutter to a Minimum: Maximize the space in your petite bathroom by reducing clutter. Downsizing to only the necessary items can instantly make the room appear more spacious. Add stylish storage options, like baskets, shelves, and cabinets, to ensure everything stays tidy. Maximize counter space and make the best out of your small bathroom remodel.
Install a Floating Vanity: Instantly create the illusion of space and elevate your bathroom design with this easy update. Enjoy the freedom of a clear floor and a spacious sanctuary with a simple switch. Make your daily routine feel more luxurious and expansive with this effortless upgrade.
Use Vertical Space: From floor to ceiling, every inch counts in creating an intimate yet functional area. Elevate your storage options with shelves or bathroom cabinetry that soar to new heights, catching the eye and expanding the feeling of the room. Because sometimes, bigger isn't better- it's simply smarter.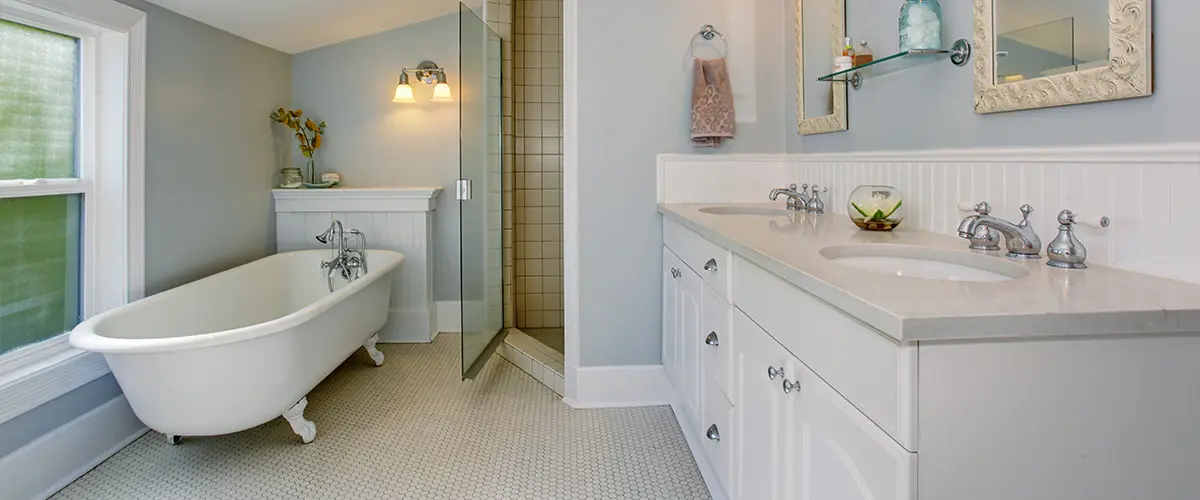 Remodeling a small bathroom doesn't have to be an overwhelming experience. Now that you know the costs, ideas and steps involved in remodeling a small bathroom, you may feel more comfortable tackling this project on your own.
Need further help in getting the right bathroom design to suit your budget and specific needs? Contact CB Remodels for an enjoyable and stress-free experience. Our experts are committed to helping you create that modern and spacious look for your bathroom without breaking the bank.
So don't hesitate – message us today! Whether providing advice or taking on the entire remodeling project from start to finish, CB Remodels is here to turn your vision into a reality.