If you're remodeling your bathroom, choosing between a bathtub or shower is a challenge many homeowners have to face at some point.
Both have pros and cons, so how do you decide which is right for you?
In this blog post, we'll compare the pros and cons of tubs and showers so that you can make the best decision for your needs.
Let's begin!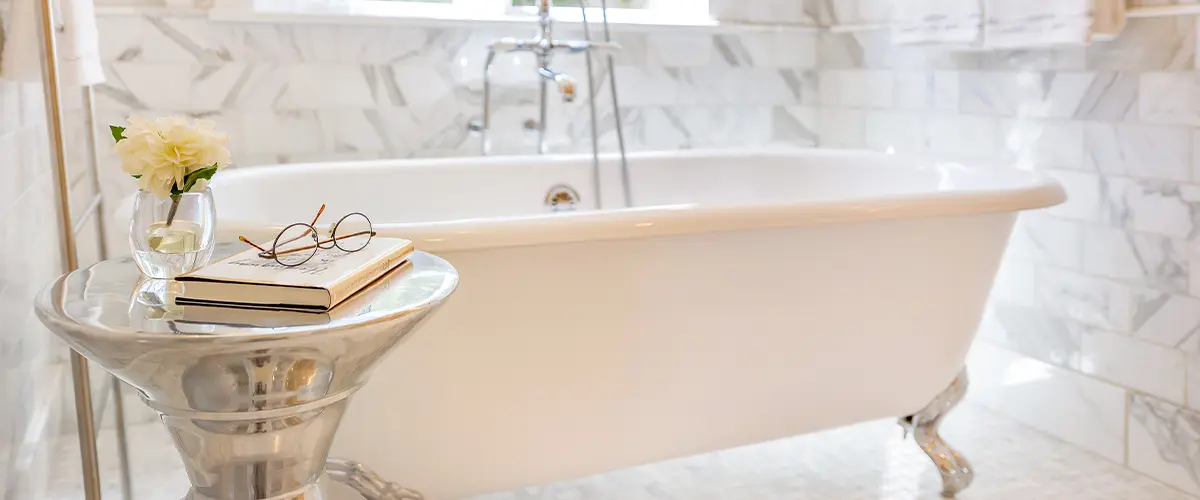 Bathtubs - Made For Relaxation And Comfort
By adding a bathtub to your home, you are investing in both the future value of your property and its aesthetic appeal. After all, nothing is more luxurious than being able to luxuriate in a hot bubble bath at the end of an exhausting day – or just anytime when relaxation is required!
However, you should be aware of some drawbacks to having a bathtub before making your decision.
Let's look at the pros and cons of bathtubs.
The Pros of Having a Bathtub
You might want to consider adding a bathtub to your home for many reasons. Some of the benefits of having a bathtub include:
After a demanding day, there's nothing that compares to a warm bath's luxuriousness. Not only will your body be revitalized, but you can also establish an even more relaxing atmosphere with pleasing aromas from candles and essential oils combined with calming music – creating the perfect environment for unwinding!
Installing a bathtub in your home is an investment that will pay off down the road—even if you're not planning to sell soon. Thanks to its potential for increasing resale value, it's always nice to know that your money is well-spent.
Adding a tub to your bathroom can be the perfect way to create an opulent and luxurious ambiance. If you have plenty of space, why not indulge yourself with a glamorous clawfoot design? For those who are limited on square footage, opt for something more efficient like an easy-to-install corner version – boundless styles available will fit in any home!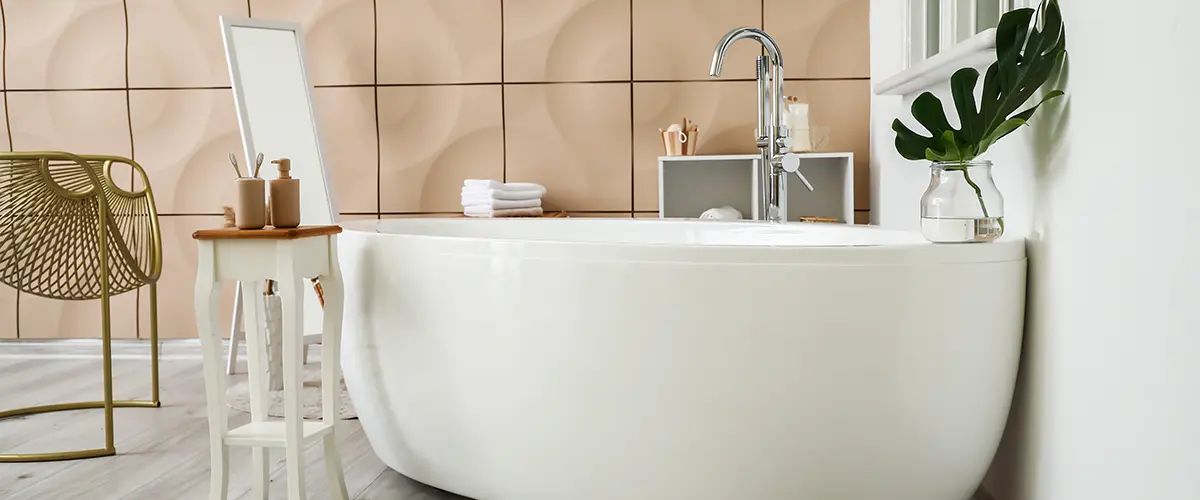 The Cons of Having a Bathtub
There are also some downsides worth keeping in mind.
A bathtub can add clutter to your bathroom, as you must store all the necessary bathing supplies. Furthermore, if there is no available storage in your bathroom, this extra mess may also seep into other parts of the house. Therefore it's important to identify and utilize adequate storage solutions from the start!
If you lack the time or enthusiasm for regular cleaning, bathtubs may not be your best option as they contain more crevices that accumulate dirt and soap scum. Showers are easier to keep clean than tubs – try out some useful hacks for cleaning shower doors!
A freestanding tub can be a costly investment, from purchase to installation. Several creative approaches are available if you're looking for ways to save money on making this luxurious addition — without sacrificing the benefits. With smart budgeting and savvy shopping tactics, you can discover all that a free-standing bathtub offers within your desired price range!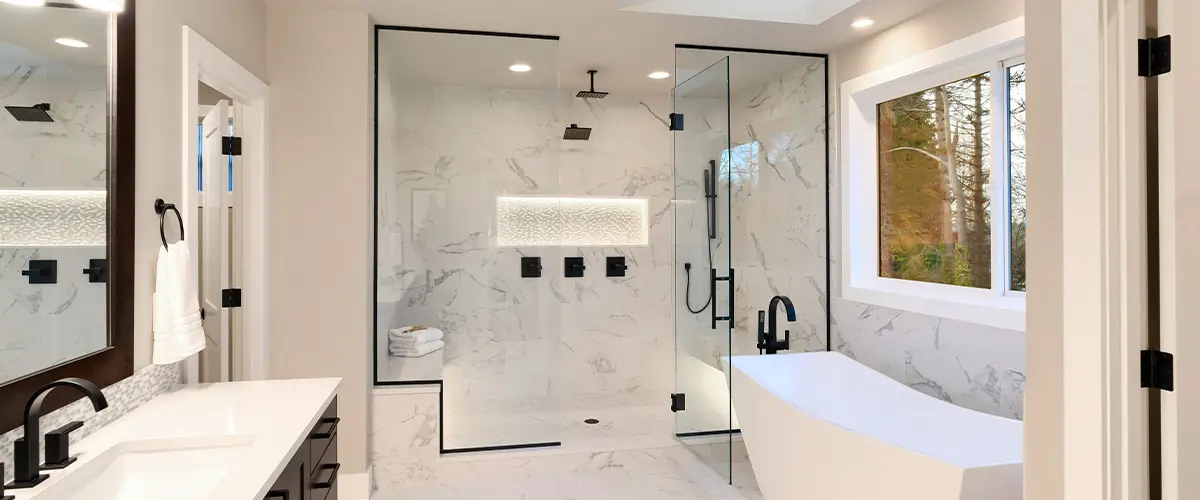 The Pros and Cons of Showers
If you're looking to get only a shower, that's also a great idea for active homeowners.
But what should one consider when investing in a custom shower? Let's analyze the benefits and drawbacks of having your own customized shower setup.
Spaciousness is only ever a shower away with walk-in showers! Homeowners can make the most of their master bathroom space and enjoy an unencumbered shower experience without bulky curtains or stalls. It's no wonder why these showers are so popular – they provide incredible freedom while taking up minimal square footage in your home.
Don't worry about wiping down the shower door or scrubbing soap scum ever again! By foregoing a curtain or door, your shower will be easier to keep clean and stay fresh for longer.
Of course, you'll still need to clean the water fixtures, like the shower head and the faucet.
A walk-in shower can be an excellent way to increase safety in your home if you have small children or elderly family members living with you. There is no risk of anyone slipping and falling due to the lack of a door, and it eliminates any worry about someone getting locked in by mistake.
But there are also some downsides of showers.
Despite its alluring design, walk-in showers are prone to water leakage and contamination. Without a door or partition installed, the shower can fling droplets onto your floor or counters if proper drainage isn't set up properly. This is especially inconvenient for those who may have invested in luxurious bathroom fixtures that could become damaged from splashing water.
When it comes to walk-in showers, one potential issue is the circulation of cold air from other parts of your home. If you haven't insulated your bathroom properly, then the shower area may become chillier than the rest of the room – something nobody wants!
How to Decide Between a Bathtub and a Shower
When it comes to selecting between a bathtub and a shower, you must consider several aspects, such as cost-effectiveness, upkeep requirements, and most importantly – your own preferences.
Keep on reading to discover more about how you can properly choose between the two so that you make the optimal decision for your house.
When choosing between a bathtub and a shower, the cost might be an important factor in your decision. Generally, the installation costs for showers are lower than those of bathtubs because they require fewer materials as well as labor to install.
If price is at the forefront of your mind when making this choice, then you should likely opt for a new shower – prices can range from $400-$4,000, while tubs typically come with price tags ranging from $200-$2,000.
However, if you have your heart set on a whirlpool tub, don't let anything stop you. At least one tub in your home will significantly make your home more functional and comfortable.
If you're looking for an easier way to maintain your bathroom but still want the luxury of a luxuriant bath, turn to showers.
They require minimal cleaning since most dirt and grime are washed away with water. We recommend keeping clear from the plastic shower tray that looks dated and get a tile surround.
Bathtubs are more susceptible to mildew and will need routine scrubbings in order to stay spotless.
With this knowledge in mind – if it's ease and convenience you seek – go with a shower!
With a plethora of advantages to both bathtubs and showers, it all boils down to personal preference.
Do you find joy in relaxing for hours inside a hot water-filled tub? Or would you prefer the swiftness of taking speedy showers?
Are there little ones around who need help bathing or are you living solo and leaning towards showering on your own terms without assistance? Take time to reflect upon your lifestyle habits before making an informed decision that is right for you!
Now that you've considered all the factors involved in choosing between a bathtub and a shower, it's time to decide based on what will work best for you and your family.
If you're not sure, why not get both a tub and shower?
If you need help with your bathroom remodel project, contact us at (626) 598-0833 – we'd be happy to assist you in creating the perfect space for relaxation and rejuvenation. You can also request a quote here.