Are you planning on renovating your bathroom? If so, then you'll need to choose the right flooring for the space. The bathroom is a high-traffic area, so it's important to select a material that can withstand heavy use. Additionally, you'll want to choose a flooring option that is easy to clean and maintain. Keep reading to learn about the best bathroom flooring options for your future renovation.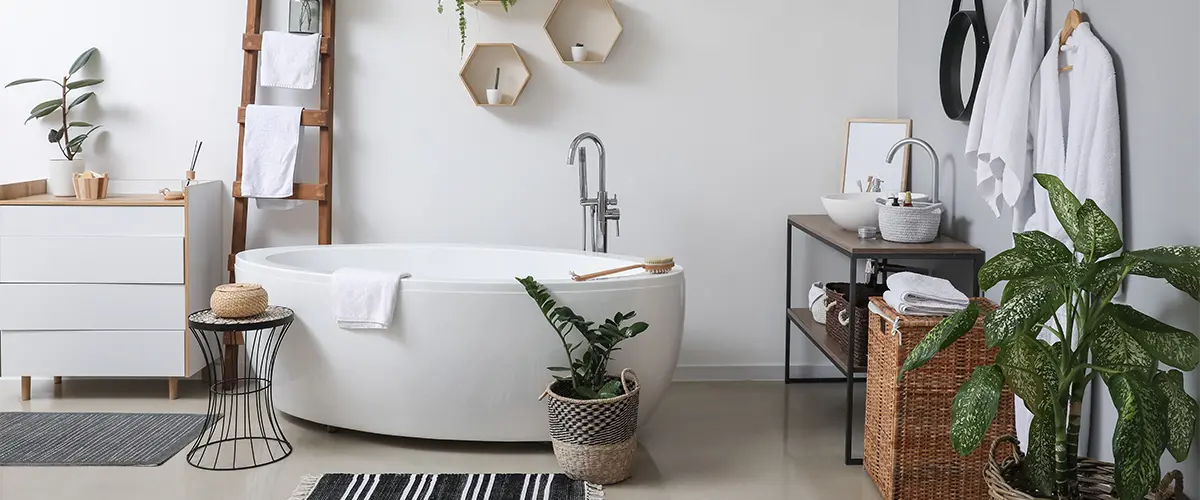 How Custom Flooring Can Transform Your Bathroom Renovation Project
A bathroom renovation project can be daunting, but the right flooring choice can make your project easier and more rewarding. Custom flooring is an excellent option for anyone looking to get the most out of their renovation. Let's examine why custom flooring is the ideal choice for your bathroom renovation project.
Durability: One of the main benefits of choosing custom flooring for your bathroom is that it is designed to last. Custom flooring is made with high-quality materials designed to withstand everyday use's wear and tear. This means you won't have to worry about replacing your floors in a few years due to scratches or discoloration. Additionally, custom flooring comes with a warranty, so you can be sure that if something does happen, you won't be stuck paying for it out of pocket.
Design Possibilities: Another great benefit of custom flooring is that you have complete control over the design process. You can choose from various materials, such as tile, stone, and wood, to create unique and beautiful floors for your bathroom. You also have complete control over the color and pattern of your floors so that they perfectly match the rest of your bathroom's decor. With custom flooring, you don't have to settle for generic off-the-shelf options; instead, you can create something truly unique and special!
Budget Friendly: Finally, custom flooring is also budget-friendly! Many people think it must be expensive because it is custom-made – but this isn't necessarily true! There are many affordable options available when it comes to custom flooring so you don't have to break the bank in order to get beautiful results! Plus, because it will last much longer than standard off-the-shelf options, it may actually end up saving you money in the long run as well!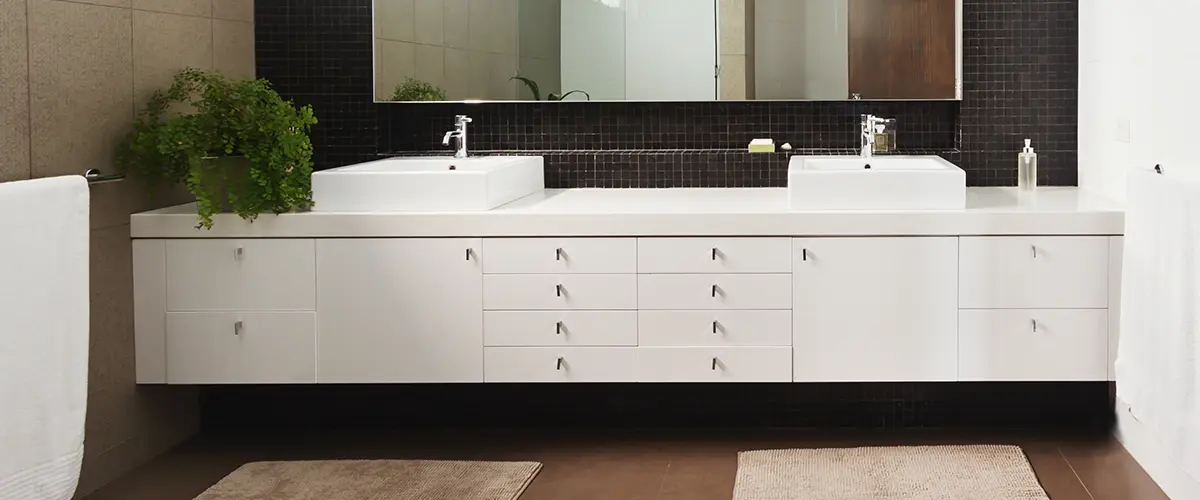 The Top 5 Best Bathroom Flooring Options For Your Next Renovation
A bathroom renovation can be an exciting and rewarding project, but it is also a big decision. Choosing the right bathroom flooring is essential to ensure that your renovation looks good and lasts for many years to come. Here are the top 5 best bathroom flooring options for your next renovation.
Vinyl Tiles – Vinyl tiles are a great choice for bathrooms as they are waterproof, durable, and affordable. Vinyl tiles come in various colors and patterns, so you have plenty of options for finding the perfect one for your space. Additionally, vinyl tiles are easy to install and maintain.
Ceramic Tiles – Ceramic tiles offer a timeless look that will never go out of style. They are extremely durable and easy to clean and maintain, making them perfect for high-traffic areas like bathrooms. Ceramic tiles also come in a wide range of colors and styles, so you can find one that fits your style and budget perfectly.
Laminate Flooring – Laminate flooring is another great option for bathrooms because it is durable, water-resistant, and easy to clean and maintain. Laminate flooring comes in different styles, such as wood or stone lookalikes, so you can get the look you want without spending too much money on real hardwood or stone floors.
Linoleum – Linoleum is an eco-friendly option made from natural materials such as cork dust and linseed oil. It has a classic look that will never go out of style, plus it's waterproof and very easy to clean. Linoleum also comes in various colors, so you can find one that perfectly matches your bathroom design.
Concrete – Concrete is an increasingly popular bathroom choice due to its durability and modern aesthetic appeal. It's also extremely versatile; concrete can be stained in any color or pattern you desire, plus it's relatively inexpensive compared to other flooring options on this list.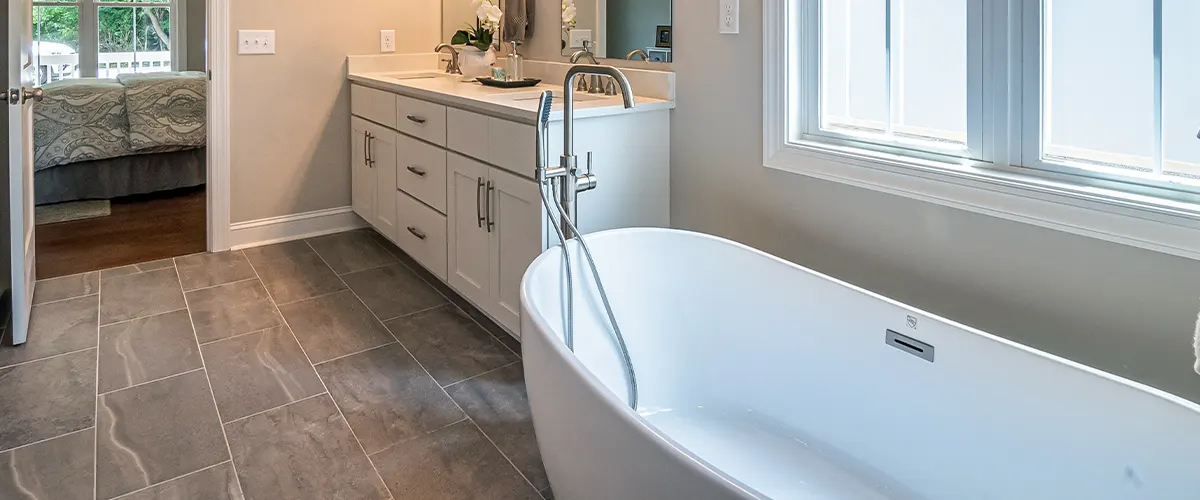 All in all, bathroom flooring is an important decision when doing a renovation project. Although there are many choices available, the best materials combine style, durability, and ease of maintenance. The room's purpose and design will usually determine which option you choose: ceramic tiles can work well in both traditional and modern designs, while vinyl can provide you with the look of stone without any grout lines, making it easier to take care of. Additionally, other options, such as laminate or engineered hardwood, should be considered if they fit into your overall design plan.
No matter what type of flooring material you choose for your bathroom remodel, our team of experienced professionals at CB Remodels provides impeccable renovations tailored to your preferences. Call us today at (626) 598-0833 to learn more about bathroom flooring trends, or request a quote, and we'll get back to you as soon as possible!
At CB Remodels, we offer professional bathroom remodeling services, and we take care of everything, from top to bottom. With us, nothing remains unattended, and you'll receive a beautiful space that fits all your changing needs.